In His Image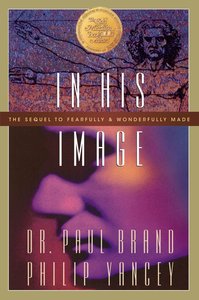 Dr Paul Brand and Philip YanceyThis magnificent continuation of the theme first presented in FEARFULLY AND WONDERFULLY MADE captures the exciting discovery that the Creator continues to dwell in and among His people. The authors look even more closely at this mystery with this second biological exploration into the wonders of the human body. An immensely satisfying and broadening book - Cornerstone Books. 291 pages, from Zondervan.
You May Also Be Interested In
About "In His Image"
Dr Paul Brand and Philip YanceyThis magnificent continuation of the theme first presented in FEARFULLY AND WONDERFULLY MADE captures the exciting discovery that the Creator continues to dwell in and among His people. The authors look even more closely at this mystery with this second biological exploration into the wonders of the human body. An immensely satisfying and broadening book - Cornerstone Books. 291 pages, from Zondervan.
- Koorong

THE VOICE OF GOD IS A HEARTBEAT AWAYIn Fearfully & Wonderfully Made, Philip Yancey and Dr. Paul Brand revealed how God's voice is encoded in the very structure of our bodies. In His Image takes up where its predecessor left off, beckoning us once again inward and onward to fresh exploration and discovery.Yancey and Brand show how accurately and intricately the human body portrays the Body of Christ. In five sections--Image, Blood, Head, Spirit, and Pain--the acclaimed surgeon and the award-winning writer unlock the remarkable, living lessons contained in our physical makeup. This Gold Medallion Award-winning book will open your eyes to the complex miracle of the human body, and the even more compelling spiritual truths that it reflects.
- Publisher

IMAGE^1. Likeness ^2. Mirrors ^3. Restoration ^BLOOD^4. Power ^5. Life ^6. Cleansing ^7. Overcoming ^8. Transfusion ^HEAD^9. Pathways ^10. The Source ^11. Confinement ^12. The Way Out ^13. The Way In ^SPIRIT^14. Breath ^15. Belonging ^16. Go- Between ^17. Listening ^18. The Prompter ^PAIN^19. Protection ^20. Linking ^21. Adaptations ^22. Chronic Pain ^23. Pain of God ^278 Pages
- Publisher


Meet the Author
Paul Brand
Dr. Paul Brand, son to missionary parents, was a world-renowned hand surgeon and pioneer in developing tendon transfer techniques for use in the hands of those with leprosy. He trained in medicine at the University College Hospital in London and and later gained his surgical qualifications whilst working as a casualty surgeon in the London Blitz. After visiting a Leprosy Sanatorium at Chingleput, he was motivated to explore the reasons behind the deformities of this disease. A donation from a missionary woman helped him establish the New Life Rehabilitative Center, which helped dispel the stig