In Six Days: Why 50 Scientists Choose to Believe in Creation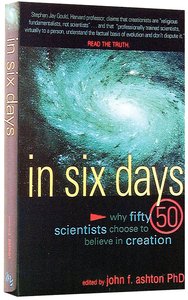 $21.99
$17.59
You Save: $4.40 (20%)
Paperback
Examining the evidence for evolution, fifty physicists, biologists and chemists present a straightforward and wide-ranging defense of creation. Important questions about the Big Bang Theory, radioactive dating of rocks, light from distant stars, and fossils are discussed in detail. This fascinating and highly readable book opens the evolution versus creation debate to a wider public. It is a must-read for all thinking Christians.
You May Also Be Interested In
This item is in the following kit
About "In Six Days: Why 50 Scientists Choose to Believe in Creation"
Examining the evidence for evolution, fifty physicists, biologists and chemists present a straightforward and wide-ranging defense of creation. Important questions about the Big Bang Theory, radioactive dating of rocks, light from distant stars, and fossils are discussed in detail. This fascinating and highly readable book opens the evolution versus creation debate to a wider public. It is a must-read for all thinking Christians.
- Koorong

50 Chapters In 384 Pages
- Publisher

Why would any educated, self-respecting scientist with a PhD advocate a literal interpretation of the six days of creation? Why, indeed, when only one in three Americans believes "the Bible is the actual word of God and is to be taken literally, word for word" according to a recent Gallup poll. Science can neither prove nor disprove evolution anymore than it can creation. Certainly there are no human eyewitness accounts of either. However, certain factors are present today which are capable of swaying one's beliefs one way or the other. In this book are the testimonies of fifty men and women holding doctorates in a wide range of scientific fields who have been convinced by the evidence to believe in a literal six-day creation. For example, meet: *The geneticist who concludes that there must have been 150 billion forerunners of "modern man" in order for the natural selection required by evolution to have taken place in the development of man. The evidence for such vast numbers of "prehistoric man" is in dire shortage. *The orthodontist who discovered that European museum fossils of ancient man have been tampered with to adhere to evolution theories All fifty of these scientists, through faith and scientific fact, have come to the conclusion that God's Word is true and everything had its origin not so very long ago, in the beginning, In Six Days..
- Publisher

So the question was posed, "Would any educated, self-respecting scientist with a PhD advocate a literal interpretation of the six days of creation?" It's hard enough to find a theologian who adheres to such a credo. Most Christians will say that they believe the Bible yet balk at its first chapters, claiming science proves that the creation account cannot be considered as fact. Do these people realize that science can neither prove nor disprove evolution any more than it can creation? Certainly there are no human eyewitness accounts of either.The fact is that a lot of faith is required to believe the evolution theory, while many scientific facts actually support creation. In Six Days presents fifty doctorate-holding scientists from around the globe who certainly advocate a literal six-day creation and give sound scientific reasoning for doing so.Topics discussed include the big bang theory, the decay of the magnetic field, irreducible complexity, the radioactive dating of rocks, and the fossil record.
- Publisher


Meet the Author
John Ashton
John Ashton was formerly University Lecturer in New Testament Studies, and Fellow of Wolfson College, Oxford.ý