In the Eye of the Storm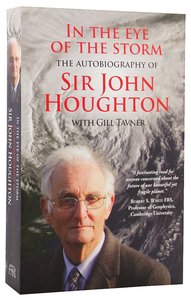 Atmospheric physicist Sir John Houghton is a leading figure in climate science and a strong advocate for radical action on global warming. As an evangelical Christian, he encourages fellow believers to be faithful stewards of God's creation. In this fascinating and inspiring book he shares the story of his life.
You May Also Be Interested In
About "In the Eye of the Storm"
Atmospheric physicist Sir John Houghton is a leading figure in climate science and a strong advocate for radical action on global warming. As an evangelical Christian, he encourages fellow believers to be faithful stewards of God's creation. In this fascinating and inspiring book he shares the story of his life.
- Koorong

Sir John Houghton's life chronicles the history of climate science. As progress has been made in the scientific measuring of climate, a worrying picture has emerged. And as Houghton and others have sought to make those worries clear, they have discovered that, for some, this is an inconvenient truth. He says 'The warning is now urgent. The science is now robust, time is moving on, and humankind is responding far too slowly. God has granted us stewardship of this planet . It is a creation full of wonder and we must do everything in our power to keep it so.' 'The warning has always been there, but opposing forces have prevented us from hearing it.' Sir John Houghton is still battling. This book is part of that battle.
- Publisher