Independence Day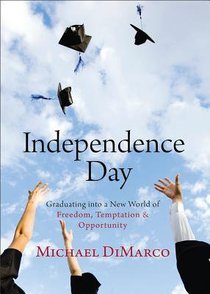 Bestselling author helps graduates avoid pitfalls and make the most of opportunities that come with the responsibilities and independence of life after high school.

- Publisher Graduation day is independence day for young people. It is the pivotal moment when their lives become more their own than their parents' or their teachers'. But what do you do with all that freedom? The crucial years after graduation, when life decisions and temptations and opportunities flood a young adult's life, are the years that can either make them . . . or break them.

New from Hungry Planet and bestselling author Michael DiMarco, Independence Day is the book every grad needs. With his solid scriptural base and tell-it-like-it-is style, Michael shows young readers that great freedom often comes with great temptation--but that it also brings opportunity for growth and success that is blessed by their heavenly Father. And that's the goal toward which he guides them in this engaging new grad book.

- Publisher
You May Also Be Interested In
About "Independence Day"
Bestselling author helps graduates avoid pitfalls and make the most of opportunities that come with the responsibilities and independence of life after high school.
- Publisher

Graduation day is independence day for young people. It is the pivotal moment when their lives become more their own than their parents' or their teachers'. But what do you do with all that freedom? The crucial years after graduation, when life decisions and temptations and opportunities flood a young adult's life, are the years that can either make them . . . or break them.

New from Hungry Planet and bestselling author Michael DiMarco, Independence Day is the book every grad needs. With his solid scriptural base and tell-it-like-it-is style, Michael shows young readers that great freedom often comes with great temptation--but that it also brings opportunity for growth and success that is blessed by their heavenly Father. And that's the goal toward which he guides them in this engaging new grad book.
- Publisher


Meet the Author
Michael Dimarco
Hayley DiMarco is chief creative officer and founder of Hungry Planet, where she writes and creates cutting-edge books that connect with the multitasking mind-set. She has written and co-written numerous bestselling books for both teens and adults, including Dateable, Mean Girls, Sexy Girls, and Technical Virgin. She and her husband, Michael, live in Nashville, Tennessee.