Index of Leading Cultural Indicators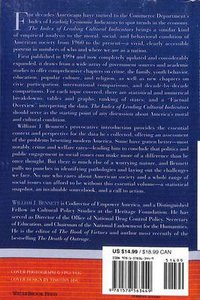 "William J. Bennett's "report card" on America is a comprehensive statistical portrait of our moral, social, and cultural condition. For years Americans have turned to the Commerce Department's Index of Leading Economic Indicators to spot trends in our economy. Now The Index of Leading Cultural Indicators provides an accessible guide to sweeping - and alarming - trends in American society." "The Index of Leading Cultural Indicators vividly demonstrates that since 1960 - while population, wealth, and welfare benefits climbed - America's values have deteriorated. Drawing on data from the Census Bureau, the FBI, and other government sources, Bennett provides eye-opening statistical and numerical breakdowns, charts and graphs, and a brief analysis of the data. Here are some of the startling findings: since 1960 violent crime has increased by 560 percent; the number of unmarried pregnant teenagers has nearly doubled; teen suicide has increased by more than 200 percent and the number of divorces has increased nearly 200 percent, while the marriage rate is at an all-time low." "Parents, educators, and everyone across the political spectrum will find The Index of Leading Cultural Indicators an invaluable sourcebook as well as a dramatic call to arms."--BOOK JACKET. Title Summary field provided by Blackwell North America, Inc. All Rights Reserved

- Publisher
You May Also Be Interested In
About "Index of Leading Cultural Indicators"
"William J. Bennett's "report card" on America is a comprehensive statistical portrait of our moral, social, and cultural condition. For years Americans have turned to the Commerce Department's Index of Leading Economic Indicators to spot trends in our economy. Now The Index of Leading Cultural Indicators provides an accessible guide to sweeping - and alarming - trends in American society." "The Index of Leading Cultural Indicators vividly demonstrates that since 1960 - while population, wealth, and welfare benefits climbed - America's values have deteriorated. Drawing on data from the Census Bureau, the FBI, and other government sources, Bennett provides eye-opening statistical and numerical breakdowns, charts and graphs, and a brief analysis of the data. Here are some of the startling findings: since 1960 violent crime has increased by 560 percent; the number of unmarried pregnant teenagers has nearly doubled; teen suicide has increased by more than 200 percent and the number of divorces has increased nearly 200 percent, while the marriage rate is at an all-time low." "Parents, educators, and everyone across the political spectrum will find The Index of Leading Cultural Indicators an invaluable sourcebook as well as a dramatic call to arms."--BOOK JACKET. Title Summary field provided by Blackwell North America, Inc. All Rights Reserved
- Publisher


Meet the Author
William J Bennett
William J. Bennett served as Director of the Office of National Drug Control Policy under President George H. W. Bush and as Secretary of Education and Chairman of the National Endowment for the Humanities under President Reagan. He holds a bachelor of arts degree in philosophy from Williams College, a doctorate in political philosophy from the University of Texas, and a law degree from Harvard.
He is the author of such bestselling books as The Educated Child; The Death of Outrage; The Book of Virtue, and the two-volume series America: The Last Best Hope.