Inductive Bible Study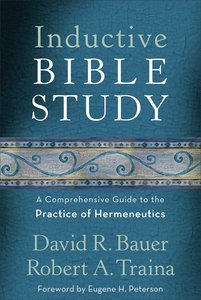 :Following up Robert Traina's classic Methodical Bible Study, this book introduces the practice of inductive Bible study to a new generation of students, pastors, and church leaders. The authors, two seasoned educators with over sixty combined years of experience in the classroom, offer guidance on adopting an inductive posture and provide step-by-step instructions on how to do inductive Bible study. They engage in conversation with current hermeneutical issues, setting forth well-grounded principles and processes for biblical interpretation and appropriation. The process they present incorporates various methods of biblical study to help readers hear the message of the Bible on its own terms.

- Publisher
You May Also Be Interested In
About "Inductive Bible Study"
:Following up Robert Traina's classic Methodical Bible Study, this book introduces the practice of inductive Bible study to a new generation of students, pastors, and church leaders. The authors, two seasoned educators with over sixty combined years of experience in the classroom, offer guidance on adopting an inductive posture and provide step-by-step instructions on how to do inductive Bible study. They engage in conversation with current hermeneutical issues, setting forth well-grounded principles and processes for biblical interpretation and appropriation. The process they present incorporates various methods of biblical study to help readers hear the message of the Bible on its own terms.
- Publisher


Meet the Authors
David R Bauer
David R. Bauer (Ph.D., Union Theological Seminary, Virginia) is Ralph Waldo Beeson Professor of Inductive Biblical Studies and dean of the School of Biblical Interpretation and Proclamation at Asbury Theological Seminary. He is a member of the executive committee of the Institute for Biblical Research and the author of several books, including An Annotated Guide to Biblical Resources for Ministry; Treasures New and Old: Contributions to Matthean Studies and Structure of Matthews Gospel: A Study in Literary Design (Bible and Literature Series).
Robert Traina
Robert A. Traina (Ph.D., Drew Uinversity) is Emeritus Thompson Professor of Biblical Studies at Asbury Theological Seminary, Wilmore KY. He is the author of the bestselling Inductive Bible Study: A Comprehensive Guide to the Practice of Hermeneutics
Table Of Contents
:foreword By Eugene H. Peterson
introduction
part 1: Theoretical Foundations
1. Inductive Study
2. Transjective Study
3. Intentional And Rational Study
4. Re-creative Study
5. Direct Study
6. Comprehensive And Integrated Study
7. Individual And Communal Study
8. Compositional Book Study
9. Canonical Study
10. Flexible Procedural Study
part 2: Observing And Asking
11. Survey Of Books-as-wholes
12. Survey Of Parts-as-wholes (divisions, Sections, Segments)
13. Focused Observation
part 3: Answering Or Interpreting
14. Selecting Questions And Formulating Premises
15. Drawing Inferences From The Premises
16. Implementing Interpretation
part 4: Evaluating And Appropriating
17. Description Of Evaluation And Appropriation
18. Implementing Evaluation And Appropriation
part 5: Correlation
19. Character And Practice Of Correlation
20. Implementing Correlation
epilogue
appendixes
indexes