Inside Threat (#04 in Riley Covington Thriller Series)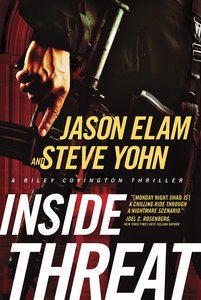 After taking two football seasons off, Riley Covington is attempting to make a comeback in the league while trying to forget Khadi Faroughi, now on security detail for a prominent senator.
But a new attack turns both of their lives upside down yet again. During a state funeral, terrorists overrun the National Cathedral and take senators, congressmen, and their entourages hostage, including Khadi. This new generation of The Cause is made up of homegrown terrorists???an inside threat to the security of the nation. They release most of the hostages, but Khadi and several others are kept behind as significant bargaining chips.
The Cause pledges to behead one member of Congress each day throughout the month of Ramadan as a punishment for their own country???s rejection of Islam. Despite the protests of Counter-Terrorism Division director Scott Ross, Riley races to CTD armed with a plan and a fierce determination to rescue Khadi at all costs.
You May Also Be Interested In
About "Inside Threat (#04 in Riley Covington Thriller Series)"
After taking two football seasons off, Riley Covington is attempting to make a comeback in the league while trying to forget Khadi Faroughi, now on security detail for a prominent senator.
But a new attack turns both of their lives upside down yet again. During a state funeral, terrorists overrun the National Cathedral and take senators, congressmen, and their entourages hostage, including Khadi. This new generation of The Cause is made up of homegrown terrorists???an inside threat to the security of the nation. They release most of the hostages, but Khadi and several others are kept behind as significant bargaining chips.
The Cause pledges to behead one member of Congress each day throughout the month of Ramadan as a punishment for their own country???s rejection of Islam. Despite the protests of Counter-Terrorism Division director Scott Ross, Riley races to CTD armed with a plan and a fierce determination to rescue Khadi at all costs.
- Koorong

After taking two football seasons off, Riley Covington is attempting to make a comeback in the league while trying to forget Khadi Faroughi, now on security detail for a prominent senator.
But a new attack turns both of their lives upside down yet again. During a state funeral, terrorists overrun the National Cathedral and take senators, congressmen, and their entourages hostage, including Khadi. This new generation of The Cause is made up of homegrown terrorists?an inside threat to the security of the nation. They release most of the hostages, but Khadi and several others are kept behind as significant bargaining chips.
The Cause pledges to behead one member of Congress each day throughout the month of Ramadan as a punishment for their own country's rejection of Islam. Despite the protests of Counter-Terrorism Division director Scott Ross, Riley races to CTD armed with a plan and a fierce determination to rescue Khadi at all costs.
- Publisher


Other Titles In The "Riley Covington Thriller Series" Series