Insights on Philippians, Colossians, Philemon (Swindoll's Living Insights New Testament Commentary Series)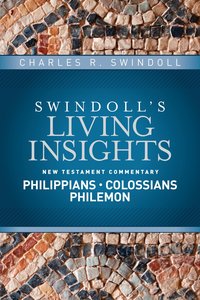 $

24.99

$

18.74
You Save: $6.25 (25%)
Hardback
:Philippians is saturated with joy. While under house arrest in Rome, Paul wrote to encourage the Philippians to rejoice in the Lord, despite their circumstances-to find Christ-centered, Spirit-empowered joy in living, serving, sharing, and resting.

Colossians is addressed to a church suffering from cultural capitulation and spiritual surrender-just like the church of the twenty-first century. Those who deceive others with self-centered philosophies, self-promoting legalism, and self-serving asceticism attract power and attention, while diminishing the gospel of Jesus Christ. Colossians serves as a lighthouse piercing the fog of false teaching and leading us to the safe harbor of Christ.

Philemon illustrates the importance of second chances, the equality of believers in Christ, and the power of the gospel to transcend cultural and social boundaries, it reminds us of the Christ-centered concepts of freedom, forgiveness, mercy, and especially grace.

The 15 volume Swindoll's Living Insights New Testament Commentary series draws on Gold Medallion Award-winner Chuck Swindoll's 50 years of experience with studying and preaching God's Word. His deep insight, easygoing style, and humor bring a warmth and accessibility not often found in commentaries. Each volume combines verse-by-verse commentary, charts, maps, photos, key terms, and background articles with practical application. This series is a must-have for pastors, teachers, and anyone else who is seeking a deeply practical resource for exploring God's Word.

- Publisher
You May Also Be Interested In
About "Insights on Philippians, Colossians, Philemon (Swindoll's Living Insights New Testament Commentary Series)"
:Philippians is saturated with joy. While under house arrest in Rome, Paul wrote to encourage the Philippians to rejoice in the Lord, despite their circumstances-to find Christ-centered, Spirit-empowered joy in living, serving, sharing, and resting.

Colossians is addressed to a church suffering from cultural capitulation and spiritual surrender-just like the church of the twenty-first century. Those who deceive others with self-centered philosophies, self-promoting legalism, and self-serving asceticism attract power and attention, while diminishing the gospel of Jesus Christ. Colossians serves as a lighthouse piercing the fog of false teaching and leading us to the safe harbor of Christ.

Philemon illustrates the importance of second chances, the equality of believers in Christ, and the power of the gospel to transcend cultural and social boundaries, it reminds us of the Christ-centered concepts of freedom, forgiveness, mercy, and especially grace.

The 15 volume Swindoll's Living Insights New Testament Commentary series draws on Gold Medallion Award-winner Chuck Swindoll's 50 years of experience with studying and preaching God's Word. His deep insight, easygoing style, and humor bring a warmth and accessibility not often found in commentaries. Each volume combines verse-by-verse commentary, charts, maps, photos, key terms, and background articles with practical application. This series is a must-have for pastors, teachers, and anyone else who is seeking a deeply practical resource for exploring God's Word.
- Publisher


Meet the Author
Charles Swindoll
Charles R. Swindoll is senior pastor of Stonebriar Community Church, Frisco, Texas, and host of a leading program in Christian broadcasting, Insight for Living which airs in major Christian and non-Christian radio markets throughout the world and to a growing web-cast audience.
Chuck's extensive writing ministry has also served the body of Christ worldwide, He has written more than thirty best-selling books, such as Strengthening Your Grip; Laugh Again, and the Great Lives series, including Paul: A Man of Grace and Grit.
His leadership as president and now chancellor of Dallas Theological Seminary has helped prepare and equip a new generation for ministry. Chuck and Cynthia, his partner in life and ministry, have four grown children and ten grandchildren.
-Publisher.


Other Titles In The "Swindoll's Living Insights New Testament Commentary" Series View All