Instant Expert: Jesus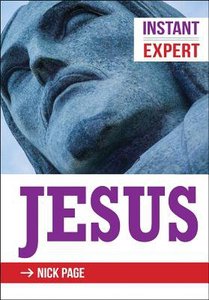 Who was Jesus, and why did he make such an impact on the world? What did he stand for, what did he say and what did he do? The Instant Expert series is a "first-steps" introduction to a topic - simple, easy to access, and clearly designed. They are authoritative and reliable and will tell you everything you need to know, in an hour's read, to bluff your way through a dinner party.

- Publisher
You May Also Be Interested In
About "Instant Expert: Jesus"
Who was Jesus, and why did he make such an impact on the world? What did he stand for, what did he say and what did he do? The Instant Expert series is a "first-steps" introduction to a topic - simple, easy to access, and clearly designed. They are authoritative and reliable and will tell you everything you need to know, in an hour's read, to bluff your way through a dinner party.
- Publisher


Meet the Author
Nick Page
Nick Page is a writer, information designer, and creative consultant. He has written a number of books, including street life; The Tabloid Bible; Lord Minimus; BLUE; The Church Invisible; The Longest Week:the truth about Jesus Last Days and The Wrong Messiah: the truth of Jesus of Nazareth
He also writes regular articles for Youthwalk, Christianity and Renewal, and works for a number of charities and NGOs. He and his wife, Claire, have three daughters and live in Eynsham in Oxfordshire, England.