Instinct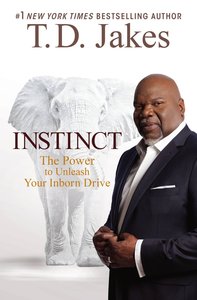 An instant #1 New York Times bestseller for six weeks, Bishop T.D. Jakes's smash-hit INSTINCT shows readers how to tap into their God-given intuition to achieve ultimate success.

Whether you call it following your heart, a gut feeling, a hunch or intuition, instinct-the inner knowledge bubbling up from a wellspring of wisdom within-can lead to a bigger, elephant-sized life.

Combining social, business and personal examples with biblical insights, in INSTINCT Bishop Jakes shows readers how to rediscover their natural aptitudes and reclaim the wisdom of their past experiences. Knowing when to close a deal, when to take a risk, and when to listen to their hearts will become possible when they're in touch with the instincts that God gave them.

If readers are ready to unlock the confines of where they are, and discover where they were meant to be, then INSTINCT is their key!

- Publisher
You May Also Be Interested In
About "Instinct"
An instant #1 New York Times bestseller for six weeks, Bishop T.D. Jakes's smash-hit INSTINCT shows readers how to tap into their God-given intuition to achieve ultimate success.

Whether you call it following your heart, a gut feeling, a hunch or intuition, instinct-the inner knowledge bubbling up from a wellspring of wisdom within-can lead to a bigger, elephant-sized life.

Combining social, business and personal examples with biblical insights, in INSTINCT Bishop Jakes shows readers how to rediscover their natural aptitudes and reclaim the wisdom of their past experiences. Knowing when to close a deal, when to take a risk, and when to listen to their hearts will become possible when they're in touch with the instincts that God gave them.

If readers are ready to unlock the confines of where they are, and discover where they were meant to be, then INSTINCT is their key!
- Publisher


Meet the Author
T D Jakes
Ministerial and business visionary, entrepreneurial trailblazer, altruistic philanthropist and spiritual shepherd to millions around the globe, Bishop T.D. Jakes is the senior pastor and founder of the Potter's House, a multi-racial, non-denominational church, located in Dallas, Texas. In 1996 this church was established with just 50 families and now 28,000 attend the Potter's House, what Christianity Today calls one of Americas fastest growing mega-churches. Bishop Jakes is also a highly celebrated author with several best-selling books. He frequently ministers in massive crusades and conferences across America, and his television show is widely viewed in millions of homes around the world. He was named in February 2005 Time Magazine as one of "The 25 Most Influential Evangelicals in America". - Publisher.