Instinto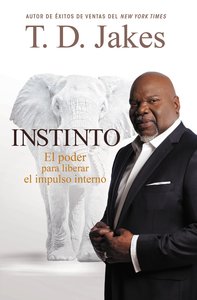 "Con la presión de hoy para amoldarse, sea para protegernos o para adaptarnos, encontrar nuestra individualidad y propósito cae en nuestras listas de prioridades.Pero para sobresalir y tener éxito, tenemos que saber quiénes somos y dónde están nuestros puntos fuertes. El más reciente libro del obispo T. D. Jakes da consejos del mundo real sobre cómo mirar dentro de usted mismo y hacer salir esa voz interior, esos instintos, y dirigirlos a una faceta de la vida que es la mejor para usted. El obispo Jakes ha vuelto a lograrlo".
-Dr. Phil McGraw, presentador de televisión sindicado nacionalmente y autor número 1 en éxitos de ventas del New York Times

Llámelo seguir su corazón, tener un presentimiento, una corazonada o intuición: hay algunas cosas que usted simplemente sabe.

El INSTINTO, ese conocimiento interior que borbotea desde un manantial de sabiduría que hay dentro de usted, no solo lo ayuda a sobrevivir, también puede ayudarlo a prosperar.

Lamentablemente, muchos de nosotros solemos vivir nuestras vidas sin sincronizarnos con este ritmo interior. Hacemos lo que estamos entrenados a hacer, lo que se nos pide hacer, o lo que otros necesitan que hagamos; sintiéndonos todo el tiempo intranquilos e insatisfechos, preguntándonos por qué no podemos lograr la plenitud.

Hasta ahora.

Independientemente de dónde esté usted en la vida, ya es hora de alinear sus acciones con sus instintos: el saber internamente quién realmente es usted y para qué fue creado. Su destino y propósito solo se pueden obtener investigando lo que hay en su interior.

Si estas palabras hacen eco a lo que usted ya sabe que es cierto, no lo dude. Es hora de que decodifique sus instintos, incremente sus áreas de progreso, e ilumine los rincones que oscureció la decepción. Vivir por instinto va a desatar su auténtico yo, transformar su lugar de trabajo, liberar su carrera y mejorar sus relaciones.

Si usted está dispuesto a salir del confinamiento en que está para descubrir la libertad en donde ha sido destinado a estar, ¡entonces el INSTINTO es su llave!

- Publisher
You May Also Be Interested In
About "Instinto"
"Con la presión de hoy para amoldarse, sea para protegernos o para adaptarnos, encontrar nuestra individualidad y propósito cae en nuestras listas de prioridades.Pero para sobresalir y tener éxito, tenemos que saber quiénes somos y dónde están nuestros puntos fuertes. El más reciente libro del obispo T. D. Jakes da consejos del mundo real sobre cómo mirar dentro de usted mismo y hacer salir esa voz interior, esos instintos, y dirigirlos a una faceta de la vida que es la mejor para usted. El obispo Jakes ha vuelto a lograrlo".
-Dr. Phil McGraw, presentador de televisión sindicado nacionalmente y autor número 1 en éxitos de ventas del New York Times

Llámelo seguir su corazón, tener un presentimiento, una corazonada o intuición: hay algunas cosas que usted simplemente sabe.

El INSTINTO, ese conocimiento interior que borbotea desde un manantial de sabiduría que hay dentro de usted, no solo lo ayuda a sobrevivir, también puede ayudarlo a prosperar.

Lamentablemente, muchos de nosotros solemos vivir nuestras vidas sin sincronizarnos con este ritmo interior. Hacemos lo que estamos entrenados a hacer, lo que se nos pide hacer, o lo que otros necesitan que hagamos; sintiéndonos todo el tiempo intranquilos e insatisfechos, preguntándonos por qué no podemos lograr la plenitud.

Hasta ahora.

Independientemente de dónde esté usted en la vida, ya es hora de alinear sus acciones con sus instintos: el saber internamente quién realmente es usted y para qué fue creado. Su destino y propósito solo se pueden obtener investigando lo que hay en su interior.

Si estas palabras hacen eco a lo que usted ya sabe que es cierto, no lo dude. Es hora de que decodifique sus instintos, incremente sus áreas de progreso, e ilumine los rincones que oscureció la decepción. Vivir por instinto va a desatar su auténtico yo, transformar su lugar de trabajo, liberar su carrera y mejorar sus relaciones.

Si usted está dispuesto a salir del confinamiento en que está para descubrir la libertad en donde ha sido destinado a estar, ¡entonces el INSTINTO es su llave!
- Publisher


Meet the Author
T D Jakes
Ministerial and business visionary, entrepreneurial trailblazer, altruistic philanthropist and spiritual shepherd to millions around the globe, Bishop T.D. Jakes is the senior pastor and founder of the Potter's House, a multi-racial, non-denominational church, located in Dallas, Texas. In 1996 this church was established with just 50 families and now 28,000 attend the Potter's House, what Christianity Today calls one of Americas fastest growing mega-churches. Bishop Jakes is also a highly celebrated author with several best-selling books. He frequently ministers in massive crusades and conferences across America, and his television show is widely viewed in millions of homes around the world. He was named in February 2005 Time Magazine as one of "The 25 Most Influential Evangelicals in America". - Publisher.