Integrative Theology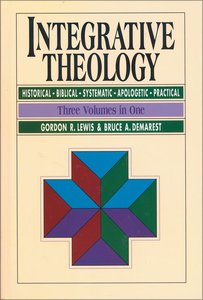 Integrative Theology is designed to help graduate students in a pluralistic world utilize a standard method of fruitful research. Each chapter on a major doctrine: (1) states a classic issue of ultimate concern, (2) surveys alternative past and present answers and (3) tests those proposals by their congruence with information on the subject progressively revealed from Genesis to Revelation. Then the chapter (4) formulates a doctrinal conclusion that consistently fits the many lines of biblical data, (5) defends that conviction respectfully, and finally (6) explores the conclusion's relevance to a person's spiritual birth, growth and service to others, all for the glory of God. Why the title Integrative Theology? In each chapter, steps 2-6 integrate the disciplines of historical, biblical, systematic, apologetic and practical theology.

- Publisher
You May Also Be Interested In
About "Integrative Theology"
Integrative Theology is designed to help graduate students in a pluralistic world utilize a standard method of fruitful research. Each chapter on a major doctrine: (1) states a classic issue of ultimate concern, (2) surveys alternative past and present answers and (3) tests those proposals by their congruence with information on the subject progressively revealed from Genesis to Revelation. Then the chapter (4) formulates a doctrinal conclusion that consistently fits the many lines of biblical data, (5) defends that conviction respectfully, and finally (6) explores the conclusion's relevance to a person's spiritual birth, growth and service to others, all for the glory of God. Why the title Integrative Theology? In each chapter, steps 2-6 integrate the disciplines of historical, biblical, systematic, apologetic and practical theology.
- Publisher


Meet the Authors
Gordon R Lewis
Gordon R. Lewis (Ph.D., Syracuse University) is senior professor of systematic theology and Christian philosophy at Denver Seminary. He is the past president of the Evangelical Philosophical Society and the Evangelical Theological Society, and is the author of seven books and many articles.
Bruce A Demarest
Bruce Demarest (Ph.D., University of Manchester) is professor of Christian formation at Denver Seminary in Littleton, Colorado. He is author of Dictionary of Everyday Theology and Culture (Navpress; 2010 with Keith Mathews); Seasons of the Soul: Stages of Spiritual Development (InterVarsity Press, 2009) The Human Person in Theology & Psychology (with Jim Beck, Kregel, 2005); Soul Guide: Following Jesus as Spiritual Director: (Navpress, 2003); Satisfy Your Soul: Restoring the Heart of Christian Spirituality (Navpress, 1999); The Cross & Salvation (Crossway, 1997); Integrative Theology (with Gordon Lewis, Zondervan, 1994); General Revelation (Zondervan, 1982) and Who Is Jesus? (Scripture Press/Victor, 1978).
Koorong -Editorial Review.