Intentional Parenting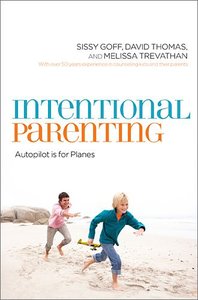 $

22.99

$

18.39
You Save: $4.60 (20%)
Paperback
This is about you, not just your child.

Regardless of age, parenting requires a certain amount of uncertainty. But you can be certain that your children look to you to help them discover who they are. And you can only offer that to the degree that YOU know who you are.

Over the years, Sissy Goff, David Thomas, and Melissa Trevathan have helped countless families through their ministry known as Daystar Counseling in Nashville, TN. Due to the unique setup of Daystar, each is frequently counseling not only the child but the parent as well. Having both perspectives provides an opportunity to speak into some of the most common struggles that parents face in today's fast-paced society.

Intentional Parenting is built around 12 chapters that each dispel some of the most common parenting myths and reminds all parents of truths that can empower them to be not only the parents that their children need but that God has called them to be.

The book helps you discover first who you are and then takes that healthy person into a discovery of being more intentional, playful, consistent, merciful, and connected to your children.

Understanding your child. Understanding you.

- Publisher
You May Also Be Interested In
About "Intentional Parenting"
This is about you, not just your child.

Regardless of age, parenting requires a certain amount of uncertainty. But you can be certain that your children look to you to help them discover who they are. And you can only offer that to the degree that YOU know who you are.

Over the years, Sissy Goff, David Thomas, and Melissa Trevathan have helped countless families through their ministry known as Daystar Counseling in Nashville, TN. Due to the unique setup of Daystar, each is frequently counseling not only the child but the parent as well. Having both perspectives provides an opportunity to speak into some of the most common struggles that parents face in today's fast-paced society.

Intentional Parenting is built around 12 chapters that each dispel some of the most common parenting myths and reminds all parents of truths that can empower them to be not only the parents that their children need but that God has called them to be.

The book helps you discover first who you are and then takes that healthy person into a discovery of being more intentional, playful, consistent, merciful, and connected to your children.

Understanding your child. Understanding you.
- Publisher


Meet the Authors
Sissy Goff
Sissy Goff has been the director of child and adolescent counseling at Daystar since 1993. She's been a guest on TV and radio programs across the US and Canada and speaks at churches, schools, youth conventions, and parenting seminars. She's written for CCM magazine and cowrote two other books with Melissa Trevathan. Sissy lives in Nashville with her little Maltese, Noel. SPANISH BIO: Sissy Goff, licenciada en educacion, licenciad en consejeroor profesional-MSHP, es directora de consejeria a nonos y adolescentes en Daystar. Es miembro de la Asociacion Americana de Consejeros Cristianos. Partic
David Thomas
David M. Thomas, Ph.D. Director of the National Marriage Institute.
Melissa Trevathan
Melissa Trevathan has been a youth director, a teacher, a retreat leader, and is now the founder and executive director of Daystar Counseling Ministries in Nashville. She's worked with kids, teenagers, and adults for over 40 years. She's been a guest on TV and radio programs in the US and Canada, and cowrote two other books with Sissy Goff. When she isn't counseling, writing, or teaching seminars, she hangs out with her old English sheepdog, Molasses. SPANISH BIO: Melissa Trevathan, licenciada en educacion religiosa, es la fundadora y directora ejecutiva de los Ministerios de Consejeria Daysta