Interactions: Essential Christianity (Interactions Small Group Series)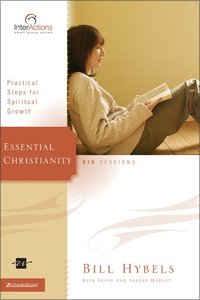 SESSION 1 Knowing Christ SESSION 2 Living With Assurance SESSION 3 Keys To Spiritual Growth SESSION 4 Getting Up After Falling Down SESSION 5 Being Christian In A Non-Christian World SESSION 6 Guidance Along The Way Leader's Notes

- Publisher The essentials of faith. You can build a life on them. Like a house built on a firm foundation, the Christian faith is founded on some key, enduring truths. Do you know what they are? If not, you owe it to yourself to find out whether you're building your life---and your eternity---on solid ground. Essential Christianity is your invitation to spiritual discussion with others as you explore the basics of faith---principles deeper and more far-reaching than you may have imagined. You'll learn what it means to really know Christ. You'll discover the secret to confident living, how to grow spiritually, how to handle your failures, how to follow Jesus in a world that's anything but devoted to Him, and the different ways God wants to guide you in the practical concerns of life. Interactions---a powerful and challenging tool for building deep relationships between you and your group members, and you and God. Interactions is far more than another group Bible study. It's a cutting-edge series designed to help small group participants develop into fully devoted followers of Christ.

- Publisher
You May Also Be Interested In
About "Interactions: Essential Christianity (Interactions Small Group Series)"
SESSION 1 Knowing Christ SESSION 2 Living With Assurance SESSION 3 Keys To Spiritual Growth SESSION 4 Getting Up After Falling Down SESSION 5 Being Christian In A Non-Christian World SESSION 6 Guidance Along The Way Leader's Notes
- Publisher

The essentials of faith. You can build a life on them. Like a house built on a firm foundation, the Christian faith is founded on some key, enduring truths. Do you know what they are? If not, you owe it to yourself to find out whether you're building your life---and your eternity---on solid ground. Essential Christianity is your invitation to spiritual discussion with others as you explore the basics of faith---principles deeper and more far-reaching than you may have imagined. You'll learn what it means to really know Christ. You'll discover the secret to confident living, how to grow spiritually, how to handle your failures, how to follow Jesus in a world that's anything but devoted to Him, and the different ways God wants to guide you in the practical concerns of life. Interactions---a powerful and challenging tool for building deep relationships between you and your group members, and you and God. Interactions is far more than another group Bible study. It's a cutting-edge series designed to help small group participants develop into fully devoted followers of Christ.
- Publisher


Meet the Authors
Kevin Harney
Kevin G. Harney is the Teaching Pastor and Evangelism Champion at Faith Church in Dyer, Indiana and Central Wesleyan Church in Holland, MI. He is also on the Teaching Team of the campus ministry at Grand Valley State University in Allendale, Michigan. He is author of Leadership from the Inside Out: Examining the Inner Life of a Healthy Church Leader; Seismic Shifts, the little changes that make a BIG difference in your life; John: An Intimate Look at the Saviour; Ephesians: Bringing Heaven to Earth, and co-author of the Willow Creek Interactions series, the Willow Creek New Community series, the Old Testament Challenge series, and Finding a Church You Can Love and Loving the Church You've Found.
Bill Hybels
Bill Hybels is the founding and senior pastor of Willow Creek Community Church in South Barrington, Illinois, one of the largest and most influential churches in North America, and the chairman of the board for Willow Creek Association. He convened The Global Leadership Summit in 1995, following a God-given prompting to help raise and develop the spiritual gift of leadership for the local church.

Both visionary and passionate about seeing every local church reach its full God-given potential, he speaks around the world on strategic issues related to leadership, evangelism, and church growth. An exceptional communicator, he is a best-selling author of more than 20 books on personal evangelism, marriage and especially on the subject of Christian leadership, including Just Walk Across the Room, Courageous Leadership and the newly released, The Power of a Whisper: Hearing God and Having the Guts to Respond.

Bill received a bachelor's degree in Biblical Studies and an honorary Doctorate of Divinity from Trinity College in Deerfield, IL. He and his wife, Lynne, have two adult children and one grandson.
Table Of Contents
Contents

Interactions...7

Introduction: Practical Steps For

Spiritual Growth...9

Session 1

Knowing Christ...11

Session 2

Living With Assurance...19

Session 3

Keys To Spiritual Growth...27

Session 4

Getting Up After Falling Down...37

Session 5

Being Christian In A

Non-christian World...45

Session 6

Guidance Along The Way...53

Leader's Notes...63
Excerpt
Excerpt from: Interactions: Essential Christianity (Interactions Small Group Series)
Essential Christianity SESSION 1 ESSENTIAL CHRISTIANITY KNOWING CHRIST THE BIG PICTURE Have you ever wondered what you might say to the people you love if you knew you had only one more chance to communicate with them? What would you say? What would you want to communicate? If I knew I could write only one more book, teach only one more class, preach only one more message, or write only one more small group study guide, it would be on the topics contained in the following pages. I am referring to the absolute basics. Not basics in terms of simplistic thoughts or truths, but basics in terms of the core building blocks of life. It is not difficult for me to get motivated to prepare messages on a whole variety of subjects. I love to teach on themes that traverse the landscape of human experience. Over the years I have tackled topics such as Christians in the marketplace, Christians in a sex-crazed culture, handling personal finances, and developing healthy relationships. I have been privileged to give messages on many books of the Bible and speak on a vast array of themes and topics. But of all of these, none is more important than what we will focus on in this study. From time to time we need to strip away all the extraneous material and get right to the heart of the Christian message. This core message of the Christian faith has transformed my life. It grips me every time I have an opportunity to communicate it. Whether I am talking with one person over a cup of coffee, leading a small group, or teaching a few thousand people, it really doesn't make any difference---it is the same life-changing message every time. A WIDE ANGLE VIEW 1. If you knew it was your last chance to speak your heart, what would you say to a family member or friend who was not a Christ follower? A BIBLICAL PORTRAIT 2. After Adam and Eve ate the fruit and disobeyed God, the way they looked at everything changed. What shift occurred in the way they viewed one of the following: * How they viewed themselves * How they viewed each other * How they viewed their God 3. Adam and Eve saw God slaughter innocent animals so that He could make clothing to cover their nakedness and shame. What did Adam and Eve learn about one of the following: * Their condition * God's view of sin * The price of sin SHARPENING THE FOCUS Read Snapshot 'The Passover Lamb' THE PASSOVER LAMB God had told Moses that every Israelite family must sacrifice a lamb and place the blood of that lamb on the doorpost of their home. If they would not, the firstborn male of their home would die when the angel of death came over Egypt. Imagine you are transported back in time to Egypt in the days of Moses. You are in a pasture as a Jewish father is taking his twelve-year-old son out to find a one-year-old lamb. 'What are we doing, Dad?' the boy asks. 'We are going to get a prize sheep.' 'What for, Dad?' 'You will see.' They find the best lamb in the flock and bring it back to the shed. The boy sees his dad get the machete. 'What are you going to do, Dad?' the boy asks again. 'I am going to slaughter the lamb.' 'What did the lamb do, Dad?' The father thinks long and hard and tries to form his words very carefully. 'Son, the lamb didn't do anything, but our nation has sinned against God. He is about ready to exercise justice and pass judgment on all of us. But God said that if we find an innocent third party, an innocent unblemished lamb, the lamb's blood will act as a covering for us.' The son thinks about this and says, 'Dad, that sounds very unfair. What happens if we don't sacrifice the lamb?' With a solemn look at his son, the father speaks the truth. 'If we don't sacrifice the lamb and place its blood on the doorpost of our house, you will die before morning.' 4. If you were that son talking to his father, what would you say to your dad at this point in the conversation? How would you feel if you were the son? 5. If you were the father, how would you explain the necessity of the lamb being sacrificed? Read Snapshot 'A Perfect Sacrifice Is Coming' A PERFECT SACRIFICE IS COMING More than 700 years B.C. the prophet Isaiah broadcast a news brief that spread across the land. Isaiah started talking about a new sacrifice, an ultimate sacrifice, the final sacrifice. He said that an innocent third party would once again pay the price for sinful people. But this time the sacrifice would be radically different; it would not be a lamb, but an innocent human (see Isa. 53:1--7). Centuries before it would happen, Isaiah pointed to a perfect sacrifice that would be paid to free people from their sins and save them from judgment. Now turn the clock ahead to the first century. Jesus has already been born and is about thirty years old. A man by the name of John the Baptist is living in the desert outside of Jerusalem. Multitudes of people are coming out to hear him preach and be baptized. One day, in front of all of the people, John catches a glimpse of Jesus. John hushes the crowd and says, 'Look, the Lamb of God, who takes away the sin of the world!' (John 1:29). John is declaring the truth. Jesus is the ultimate Lamb, the innocent third party who will shed His blood as the payment for sinful people. 6. Isaiah pointed to Jesus and wrote: He was despised and rejected by men, a man of sorrows, and familiar with suffering. Like one from whom men hide their faces he was despised, and we esteemed him not. Surely he took up our infirmities and carried our sorrows, yet we considered him stricken by God, smitten by him, and afflicted. But he was pierced for our transgressions, he was crushed for our iniquities; the punishment that brought us peace was upon him, and by his wounds we are healed. We all, like sheep, have gone astray, each of us has turned to his own way; and the LORD has laid on him the iniquity of us all. ISAIAH 53:3--6 What did Isaiah promise that Jesus would do for you? How do you feel when you read these words? 7. Think about the story of the father and son going out to find a prize lamb to sacrifice so they could place its blood on the doorpost of their home as a covering. What did Jesus have in common with the sacrificial lamb of Exodus? Read Snapshot 'Jesus, the Final Sacrifice' 8. If you have received God's forgiveness through the shed blood of Christ, describe when this happened and how it has changed your life. If you have not yet received this forgiveness, what is standing in the way? JESUS, THE FINAL SACRIFICE It is the first century, and you are in the grandstands right outside of the court of Pontius Pilate. Jesus has been arrested. He is convicted on false charges and now, as He is strapped up, a Roman soldier takes a whip with nine straps covered with pieces of metal and glass and begins flogging Jesus in public. You see the blood of the sinless, only begotten Son of God begin to flow. You watch as Jesus is brought to the hill of Calvary where an executioner gets delight in pounding nails into His wrists and feet. The blood of the perfect Lamb of God continues to flow.
Other Titles In The "Interactions Small Group" Series View All
$14.99




Order now to secure your copy when our stock arrives. 0 Available. Expected to ship May 2018.

$14.99




Order now to secure your copy when our stock arrives. 0 Available. Expected to ship in 3 weeks from Australia.

$14.99




Order now to secure your copy when our stock arrives. 0 Available. Expected to ship in 3 weeks from Australia.

$13.99




Order now to secure your copy when our stock arrives. Other edition is available. 0830820035 0 Available. Expected to ship in 3 weeks from Australia.

Formats

$6.99

Nett


Available for immediate download.