Interactions: Fruit of the Spirit (Interactions Small Group Series)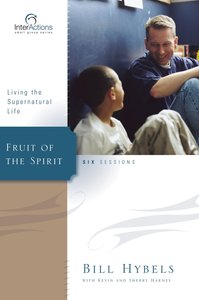 Interactions Introduction: Living The Supernatural Life SESSION 1 Love SESSION 2 Joy SESSION 3 Peace SESSION 4 Patience SESSION 5 Sensitivity SESSION 6 Faithfulness Leader's Notes

- Publisher It takes the power of God to produce the character of God. Putting others' needs ahead of our own: it's the ultimate expression of love---and the hardest. Fortunately, we don't have to go it alone. In Fruit of the Spirit, you'll learn about the life-transforming qualities God wants to cultivate inside you. And you'll discover the supernatural Agent who empowers you to attain them: the Holy Spirit, working within you to produce each kind of spiritual 'fruit.' In the Holy Spirit's power, you can live a supernatural life that transforms every relationship you have. And in the process, you'll discover the one route to a truly satisfying life: serving others. Interactions---a powerful and challenging tool for building deep relationships between you and your group members, and you and God. Interactions is far more than another group Bible study. It's a cutting-edge series designed to help small group participants develop into fully devoted followers of Christ.

- Publisher
You May Also Be Interested In
About "Interactions: Fruit of the Spirit (Interactions Small Group Series)"
Interactions Introduction: Living The Supernatural Life SESSION 1 Love SESSION 2 Joy SESSION 3 Peace SESSION 4 Patience SESSION 5 Sensitivity SESSION 6 Faithfulness Leader's Notes
- Publisher

It takes the power of God to produce the character of God. Putting others' needs ahead of our own: it's the ultimate expression of love---and the hardest. Fortunately, we don't have to go it alone. In Fruit of the Spirit, you'll learn about the life-transforming qualities God wants to cultivate inside you. And you'll discover the supernatural Agent who empowers you to attain them: the Holy Spirit, working within you to produce each kind of spiritual 'fruit.' In the Holy Spirit's power, you can live a supernatural life that transforms every relationship you have. And in the process, you'll discover the one route to a truly satisfying life: serving others. Interactions---a powerful and challenging tool for building deep relationships between you and your group members, and you and God. Interactions is far more than another group Bible study. It's a cutting-edge series designed to help small group participants develop into fully devoted followers of Christ.
- Publisher


Meet the Authors
Kevin Harney
Kevin G. Harney is the Teaching Pastor and Evangelism Champion at Faith Church in Dyer, Indiana and Central Wesleyan Church in Holland, MI. He is also on the Teaching Team of the campus ministry at Grand Valley State University in Allendale, Michigan. He is author of Leadership from the Inside Out: Examining the Inner Life of a Healthy Church Leader; Seismic Shifts, the little changes that make a BIG difference in your life; John: An Intimate Look at the Saviour; Ephesians: Bringing Heaven to Earth, and co-author of the Willow Creek Interactions series, the Willow Creek New Community series, the Old Testament Challenge series, and Finding a Church You Can Love and Loving the Church You've Found.
Bill Hybels
Bill Hybels is the founding and senior pastor of Willow Creek Community Church in South Barrington, Illinois, one of the largest and most influential churches in North America, and the chairman of the board for Willow Creek Association. He convened The Global Leadership Summit in 1995, following a God-given prompting to help raise and develop the spiritual gift of leadership for the local church.

Both visionary and passionate about seeing every local church reach its full God-given potential, he speaks around the world on strategic issues related to leadership, evangelism, and church growth. An exceptional communicator, he is a best-selling author of more than 20 books on personal evangelism, marriage and especially on the subject of Christian leadership, including Just Walk Across the Room, Courageous Leadership and the newly released, The Power of a Whisper: Hearing God and Having the Guts to Respond.

Bill received a bachelor's degree in Biblical Studies and an honorary Doctorate of Divinity from Trinity College in Deerfield, IL. He and his wife, Lynne, have two adult children and one grandson.
Table Of Contents
Contents

Interactions...7

Introduction: Living The Supernatural Life...9

Session 1

Love...11

Session 2

Joy...17

Session 3

Peace...23

Session 4

Patience...29

Session 5

Sensitivity...35

Session 6

Faithfulness...43

Leader's Notes...49
Excerpt
Excerpt from: Interactions: Fruit of the Spirit (Interactions Small Group Series)
Fruit of the Spirit LOVE T H E B I G P I C T U R E It takes an enormous amount of courage to enter the character battles that Scripture challenges us to fight. I would like to propose that treating others as more important than yourself is one of the best definitions of love I have ever heard. I get so tired of superficial definitions of love. They seem to change with the seasons. * Love is a gentle smile. * Love is finding someone's space that is similar to your own. * Love is standing up in a church service and shaking hands with people. * Love is feeling warm and sentimental toward other believers. * Love is the feeling you get when you are near someone attractive. This is all lightweight, hollow stuff. The Bible cuts through all of the haze and says that if you want one clear definition of what love is, treat every person as though they were more important than you. This means you should treat family members, friends, employees, minorities, Republicans, and Democrats as though they are more important than you are. It means you should learn to honor others. To hold them in high esteem. To respect them. To believe they have something to contribute to your life. I D E A N G L E V I E W 1. How would you have defined love at one of the following times in your life: * When you were a child * When you were a teenager * When you were a young adult How has your understanding of love changed over the years? A B I B L I C A L P O R T R A I T Read Philippians 2:1--11 2. What does this passage teach about what love looks like? 3. What has Jesus done to model perfect love for us? How can we follow Jesus' example of love? S H A R P E N I N G T H E F O C U S Read Snapshot 'Putting Others First, Even at One O'clock in the Morning' 4. Tell your small group about a time you had a chance to treat someone else as better than yourself but failed to do so. Tell about a time you received God's supernatural power and were able to love another person by treating him or her as better than yourself. PUTTING OTHERS FIRST, EVEN AT ONE O'CLOCK IN THE MORNING I remember an experience some years ago when I was awakened at about 1:00 A.M. by our son, Todd, then five years old, who said, 'Mom. Dad. I just had a nightmare.' As soon as I awakened, my instinct was to lay very still and pretend I was asleep so Lynne would get up and deal with him. After he kept trying to get our attention, I poked her and said, 'Lynne, Todd had a nightmare.' I was hoping she would be so startled that her motherly instincts would take over. It worked like a charm. She jumped up and took care of him. But as I lay there, trying to doze off to sleep, I found myself thinking, 'Oh no! This was a great opportunity to treat my wife as more important than myself, and all I could think of was me.' Read Snapshot 'The Power of the Spirit' 5. How have you experienced the transforming power and presence of the Holy Spirit in your life since becoming a follower of Christ? 6. Describe a time when you did not fully cooperate with the Spirit's work or prompting. What were the consequences? Read Snapshot 'God's Example of Love' GOD'S EXAMPLE OF LOVE Our God is wonderful, amazing, and loving beyond our understanding. He treats us like celebrities. We are VIPs in His sight. He even put our needs and interests above His own by giving His only Son for us. What greater motivation could we have to love others? THE POWER OF THE SPIRIT The primary means by which God accomplishes His transformation in our lives is through the work of His Holy Spirit. If you have surrendered your life to Christ and asked Him to be your Savior and friend, one of the first things God does is put His Holy Spirit, the third person of the Trinity, into your life. Through the Spirit, He begins the process of transformation. He begins to work twenty-four hours a day to change your natural instincts so that you begin to act and react to people in a supernatural, God-honoring fashion. The Holy Spirit will always be faithful to grow this kind of love in your life. The big question is, will you cooperate? 7. Choose one area below and list a practical way you can show love by putting the needs of others ahead of your own needs. * Your home * Your workplace * Your neighborhood * Your small group * Your church * Your community What can your small group members do to support you and keep you accountable as you seek to express love in this area? 8. Describe a recurring situation in your life where putting others first is difficult. What is one thing you can do to begin to change in this area of your life? P U T T I N G Y O U R S E L F I N T H E P I C T U R E PUTTING OTHERS FIRST Take time in the coming week to identify one person you need to love by putting that person's interests and needs before your own. Decide exactly how you will express love to that person by putting him or her first. To whom will you be expressing love? What will you do to put that person first? When will you do it? Who will be praying for you and keeping you accountable? HOW WILL YOU BE REMEMBERED? I remember attending the funeral of a man from our church some years ago. One of the things said about him during the eulogy was, 'He put others first.' All the way through that funeral, the Spirit put a mirror of reflection in front of me which caused me to wonder, 'What are they going to say about me at my funeral? He was intense? He was a leader?' I hope people will say, 'He loved others. He put others first.' Take time for honest and prayerful reflection and answer the following questions: If you were to die today, what do you think people would say about you and the impact your life has made? What would you like people to say about you after you are gone?
Other Titles In The "Interactions Small Group" Series View All