Interactions: Lessons on Love (Interactions Small Group Series)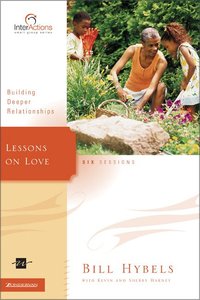 What kind of love makes a difference?A bold yet compassionate love is a trademark of Jesus Christ. Love without limits. A world-changing love. Can such love be reproduced in the lives of sinful men and women like us? Is it possible to follow Jesus' model of giving and receiving love? In Lessons on Love, you'll find out how. You'll learn about the various kinds of love, beginning with forms of love you'll recognize--and ending with a supernatural love so awesome it can utterly transform lives. Christ's love. The world around you will take note when you unleash the power of Christ's love--and it will never be the same.Interactions--a powerful and challenging tool for building deep relationships between you and your group members, and you and God. Interactions is far more than another group Bible study. It's a cutting-edge series designed to help small group participants develop into fully devoted followers of Christ.

- Publisher Lessons on LoveCopyright 1996 by Willow Creek AssociationRequests for information should be addressed to:Zondervan, Grand Rapids, Michigan 49530ISBN-10: 0-310-26593-2ISBN-13: 978-0-310-26593-1All Scripture quotations, unless otherwise indicated, are taken from the Holy Bible: New InternationalVersion. NIV. Copyright 1973, 1978, 1984 by International Bible Society. Used by permission ofZondervan. All rights reserved.All rights reserved. No part of this publication may be reproduced, stored in a retrieval system, ortransmitted in any form or by any means-electronic, mechanical, photocopy, recording, or anyother-except for brief quotations in printed reviews, without the prior permission of the publisher.Interior design by Rick Devon and Michelle EspinozaPrinted in the United States of America05 06 07 08 09 10 11 12 /?DCI/ 10 9 8 7 6 5 4 3 2 1S E S S I O N 1 L E S S O N S O N L O V ELOVINGLESSONST H E B I G P I C T U R EWhen a building is being constructed, the groundwork is criticallyimportant. If the foundation is faulty, the whole buildingwill be unstable. If the foundation is solid, the building will bestable and stand firm under stress.The same is true when building loving relationships. We needto have a solid foundation on which to build. If we don''t, thewhole structure of the relationship is in danger. If we have asolid base of love, we can experience deep and meaningfulrelationships.Although all of us desire to be genuinely loving, we all havedifferent natural capacities for receiving and expressing love.If I were to teach a ski class, there would inevitably be a varietyof skill levels displayed. Some people would barely be able tostand up. They would be falling over in the lift line, impalingthemselves on their ski poles, or accidentally stabbing thosearound them. Others could negotiate the bunny slope with acertain amount of confidence. And then there would be thosewho could ski down the hills with ease and style. It doesn''tbother us to think about how some people are better at a certainsport or activity. However, when it comes to loving, we assumeeveryone has acquired the same abilities and skills. The hardtruth is that some people have a great natural ability to love,while others have to work at expressing love.There are a variety of loving capacities among the members ofyour small group. This may be partly the result of how muchlove each received in their family as they were growing up. Itis also determined by basic temperament and personality. Someof us have soft and gentle temperaments, while others do not.Our capacity to love is also based on how we have respondedto the things life has thrown at us. Life is a mixed bag. Somepeople encounter obstacles and difficulties and becomeincreasingly bitter and hard-hearted over the years. Otherstend to become more open and kind and gentle over time. Inalmost every group there will be those who are more naturallycaring and kind and others who can be short-fused, calloused,and even a little tough-hearted. The majority of us are somewherein the middle.A W I D E A N G L E V I E W1. Put an "X" on each line below to indicate where youwould place the following people in relationship totheir ability to feel and express love.Your fatherTenderhearted Tough-HeartedExpressive of love Not expressive of loveYour motherTenderhearted Tough-HeartedExpressive of love Not expressive of loveYouTenderhearted Tough-HeartedExpressive of love Not expressive of loveWhy did you choose to put the "X" where you did on eachline?A B I B L I C A L P O R T R A I T2. In this passage we are called to "spur one another ontoward love and good deeds." If you view your smallgroup members as the "one another" in this passage,what can you do to "spur one another on" to be moreloving?S H A R P E N I N G T H E F O C U SRead Snapshot "You Matter to God!"3. What would you say to a person in your small group toexpress to them how much they matter to God?YOU MATTER TO GOD!God wants to see each of us transformed i

- Publisher
You May Also Be Interested In
About "Interactions: Lessons on Love (Interactions Small Group Series)"
What kind of love makes a difference?A bold yet compassionate love is a trademark of Jesus Christ. Love without limits. A world-changing love. Can such love be reproduced in the lives of sinful men and women like us? Is it possible to follow Jesus' model of giving and receiving love? In Lessons on Love, you'll find out how. You'll learn about the various kinds of love, beginning with forms of love you'll recognize--and ending with a supernatural love so awesome it can utterly transform lives. Christ's love. The world around you will take note when you unleash the power of Christ's love--and it will never be the same.Interactions--a powerful and challenging tool for building deep relationships between you and your group members, and you and God. Interactions is far more than another group Bible study. It's a cutting-edge series designed to help small group participants develop into fully devoted followers of Christ.
- Publisher

Lessons on LoveCopyright 1996 by Willow Creek AssociationRequests for information should be addressed to:Zondervan, Grand Rapids, Michigan 49530ISBN-10: 0-310-26593-2ISBN-13: 978-0-310-26593-1All Scripture quotations, unless otherwise indicated, are taken from the Holy Bible: New InternationalVersion. NIV. Copyright 1973, 1978, 1984 by International Bible Society. Used by permission ofZondervan. All rights reserved.All rights reserved. No part of this publication may be reproduced, stored in a retrieval system, ortransmitted in any form or by any means-electronic, mechanical, photocopy, recording, or anyother-except for brief quotations in printed reviews, without the prior permission of the publisher.Interior design by Rick Devon and Michelle EspinozaPrinted in the United States of America05 06 07 08 09 10 11 12 /?DCI/ 10 9 8 7 6 5 4 3 2 1S E S S I O N 1 L E S S O N S O N L O V ELOVINGLESSONST H E B I G P I C T U R EWhen a building is being constructed, the groundwork is criticallyimportant. If the foundation is faulty, the whole buildingwill be unstable. If the foundation is solid, the building will bestable and stand firm under stress.The same is true when building loving relationships. We needto have a solid foundation on which to build. If we don''t, thewhole structure of the relationship is in danger. If we have asolid base of love, we can experience deep and meaningfulrelationships.Although all of us desire to be genuinely loving, we all havedifferent natural capacities for receiving and expressing love.If I were to teach a ski class, there would inevitably be a varietyof skill levels displayed. Some people would barely be able tostand up. They would be falling over in the lift line, impalingthemselves on their ski poles, or accidentally stabbing thosearound them. Others could negotiate the bunny slope with acertain amount of confidence. And then there would be thosewho could ski down the hills with ease and style. It doesn''tbother us to think about how some people are better at a certainsport or activity. However, when it comes to loving, we assumeeveryone has acquired the same abilities and skills. The hardtruth is that some people have a great natural ability to love,while others have to work at expressing love.There are a variety of loving capacities among the members ofyour small group. This may be partly the result of how muchlove each received in their family as they were growing up. Itis also determined by basic temperament and personality. Someof us have soft and gentle temperaments, while others do not.Our capacity to love is also based on how we have respondedto the things life has thrown at us. Life is a mixed bag. Somepeople encounter obstacles and difficulties and becomeincreasingly bitter and hard-hearted over the years. Otherstend to become more open and kind and gentle over time. Inalmost every group there will be those who are more naturallycaring and kind and others who can be short-fused, calloused,and even a little tough-hearted. The majority of us are somewherein the middle.A W I D E A N G L E V I E W1. Put an "X" on each line below to indicate where youwould place the following people in relationship totheir ability to feel and express love.Your fatherTenderhearted Tough-HeartedExpressive of love Not expressive of loveYour motherTenderhearted Tough-HeartedExpressive of love Not expressive of loveYouTenderhearted Tough-HeartedExpressive of love Not expressive of loveWhy did you choose to put the "X" where you did on eachline?A B I B L I C A L P O R T R A I T2. In this passage we are called to "spur one another ontoward love and good deeds." If you view your smallgroup members as the "one another" in this passage,what can you do to "spur one another on" to be moreloving?S H A R P E N I N G T H E F O C U SRead Snapshot "You Matter to God!"3. What would you say to a person in your small group toexpress to them how much they matter to God?YOU MATTER TO GOD!God wants to see each of us transformed i
- Publisher


Meet the Authors
Kevin Harney
Kevin G. Harney is the Teaching Pastor and Evangelism Champion at Faith Church in Dyer, Indiana and Central Wesleyan Church in Holland, MI. He is also on the Teaching Team of the campus ministry at Grand Valley State University in Allendale, Michigan. He is author of Leadership from the Inside Out: Examining the Inner Life of a Healthy Church Leader; Seismic Shifts, the little changes that make a BIG difference in your life; John: An Intimate Look at the Saviour; Ephesians: Bringing Heaven to Earth, and co-author of the Willow Creek Interactions series, the Willow Creek New Community series, the Old Testament Challenge series, and Finding a Church You Can Love and Loving the Church You've Found.
Bill Hybels
Bill Hybels is the founding and senior pastor of Willow Creek Community Church in South Barrington, Illinois, one of the largest and most influential churches in North America, and the chairman of the board for Willow Creek Association. He convened The Global Leadership Summit in 1995, following a God-given prompting to help raise and develop the spiritual gift of leadership for the local church.

Both visionary and passionate about seeing every local church reach its full God-given potential, he speaks around the world on strategic issues related to leadership, evangelism, and church growth. An exceptional communicator, he is a best-selling author of more than 20 books on personal evangelism, marriage and especially on the subject of Christian leadership, including Just Walk Across the Room, Courageous Leadership and the newly released, The Power of a Whisper: Hearing God and Having the Guts to Respond.

Bill received a bachelor's degree in Biblical Studies and an honorary Doctorate of Divinity from Trinity College in Deerfield, IL. He and his wife, Lynne, have two adult children and one grandson.
Table Of Contents
Contents

Interactions...7

Introduction: Building Deeper

Relationships...9

Session 1

Loving Lessons...11

Session 2

Tender Love...19

Session 3

Tough Love...27

Session 4

Sacrificial Love...35

Session 5

Steadfast Love...43

Session 6

Radical Love...51

Leader's Notes...59
Excerpt
Excerpt from: Interactions: Lessons on Love (Interactions Small Group Series)
Lessons on Love S E S S I O N 1 L E S S O N S O N L O V E LOVING LESSONS T H E B I G P I C T U R E When a building is being constructed, the groundwork is critically important. If the foundation is faulty, the whole building will be unstable. If the foundation is solid, the building will be stable and stand firm under stress. The same is true when building loving relationships. We need to have a solid foundation on which to build. If we don't, the whole structure of the relationship is in danger. If we have a solid base of love, we can experience deep and meaningful relationships. Although all of us desire to be genuinely loving, we all have different natural capacities for receiving and expressing love. If I were to teach a ski class, there would inevitably be a variety of skill levels displayed. Some people would barely be able to stand up. They would be falling over in the lift line, impaling themselves on their ski poles, or accidentally stabbing those around them. Others could negotiate the bunny slope with a certain amount of confidence. And then there would be those who could ski down the hills with ease and style. It doesn't bother us to think about how some people are better at a certain sport or activity. However, when it comes to loving, we assume everyone has acquired the same abilities and skills. The hard truth is that some people have a great natural ability to love, while others have to work at expressing love. There are a variety of loving capacities among the members of your small group. This may be partly the result of how much love each received in their family as they were growing up. It is also determined by basic temperament and personality. Some of us have soft and gentle temperaments, while others do not. Our capacity to love is also based on how we have responded to the things life has thrown at us. Life is a mixed bag. Some people encounter obstacles and difficulties and become increasingly bitter and hard-hearted over the years. Others tend to become more open and kind and gentle over time. In almost every group there will be those who are more naturally caring and kind and others who can be short-fused, calloused, and even a little tough-hearted. The majority of us are somewhere in the middle. A W I D E A N G L E V I E W 1. Put an 'X' on each line below to indicate where you would place the following people in relationship to their ability to feel and express love. Your father Tenderhearted Tough-Hearted Expressive of love Not expressive of love Your mother Tenderhearted Tough-Hearted Expressive of love Not expressive of love You Tenderhearted Tough-Hearted Expressive of love Not expressive of love Why did you choose to put the 'X' where you did on each line? A B I B L I C A L P O R T R A I T 2. In this passage we are called to 'spur one another on toward love and good deeds.' If you view your small group members as the 'one another' in this passage, what can you do to 'spur one another on' to be more loving? S H A R P E N I N G T H E F O C U S Read Snapshot 'You Matter to God!' 3. What would you say to a person in your small group to express to them how much they matter to God? YOU MATTER TO GOD! God wants to see each of us transformed into a more loving person. The first thing He does in this transformation process is convince you, to the core of your being, that you matter to Him. You are the focus of His affection. You are precious in His sight. You are loved beyond words. When seekers turn to the Bible they find countless portions of Scripture where God takes a huge risk. He knows, with His omniscience, that certain people are going to reject His love, but He says it anyway. I like the way it is put in Isaiah 43, verses 1 and 4. God says through Isaiah, 'I have summoned you by name . . . You are precious and honored in my sight.' And then there are the words 'I love you.' In a loveless world, God reaches out and says we matter more to Him than we could ever dream. How do we show kids that they matter to God? Read Snapshot 'Love in Action' 4. If you were talking with a seeker who had never stepped foot into a church, how would you explain what God has done to show His love for them? 5. When did you first really experience the depth of God's sacrificial love for you, and what helped you to understand it? LOVE IN ACTION When it comes to love, God takes it far beyond just words. We all know that talk is cheap. God didn't demonstrate His love in some glittery, Hollywood style with soft colors and moving music in the background. God rolled up His sleeves, put on human flesh, and came to live among us. He became part of a family. He developed a trade as a carpenter. He became active in relationships. He came out of the heavenly grandstand and got knocked around on the playing field of life. This means that when we pray to Him, we can be assured that He knows all about family joys and struggles. He knows all about work. He knows all about relationships. We have rock-solid assurance that He understands. He truly has walked in our shoes. Another reason God put on human flesh was to show people a purer kind of love than they had ever witnessed before. Love for the unlovely, the needy, the forgotten people, and love for sinners like you and me. Of course, in the supreme demonstration of love, He sacrificed Himself voluntarily and paid the penalty for our sins so that we could come into a relationship with the Father. 'Greater love has no one than this, that he lay down his life for his friends' (John 15:13). If you miss this, you miss everything. When you become personally involved with this kind of love, when the scales fall off your eyes for the first time and this kind of love grips you and moves you and comes crashing into your soul, you will never be the same. Read Snapshot 'The Presence of the Holy Spirit' 6. How have you experienced the transforming presence and power of the Holy Spirit in the following areas of your life: * How you love family members * How you love and care for other followers of Christ * How you feel toward those who do not yet know God's love 7. What are some of the things you do that limit the impact of the Holy Spirit's power in your life? THE PRESENCE OF THE HOLY SPIRIT Not only does God tell us that we matter to Him, but He also proves His love by His actions. One of the things God has done to show us His love is to send the Holy Spirit to live inside of us. The Holy Spirit assumes the full-time task of warming up your heart and making you a more relational, tender, loving person. When God puts His Holy Spirit in your life, it's like turning a spotlight on a cold, hard heart. The Holy Spirit starts melting you, tenderizing you, making you soft toward God and people. And the good news is that the Holy Spirit will continue to work in you for the rest of your life! What can you do to give the Holy Spirit greater control and room to work in your life? Read Snapshot 'A New Community'
Other Titles In The "Interactions Small Group" Series View All