Interactions: Lessons on Love (Interactions Small Group Series)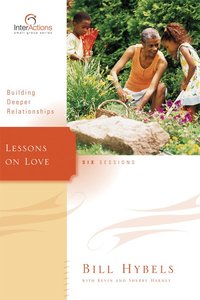 Learn about various kinds of love, beginning with forms of love you'll recognize--and ending with a supernatural love so awesome it can utterly transform lives. (6 sessions)
You May Also Be Interested In
About "Interactions: Lessons on Love (Interactions Small Group Series)"
Learn about various kinds of love, beginning with forms of love you'll recognize--and ending with a supernatural love so awesome it can utterly transform lives. (6 sessions)
- Koorong

What kind of love makes a difference?A bold yet compassionate love is a trademark of Jesus Christ. Love without limits. A world-changing love. Can such love be reproduced in the lives of sinful men and women like us? Is it possible to follow Jesus' model of giving and receiving love? In Lessons on Love, you'll find out how. You'll learn about the various kinds of love, beginning with forms of love you'll recognize?and ending with a supernatural love so awesome it can utterly transform lives. Christ's love. The world around you will take note when you unleash the power of Christ's love?and it will never be the same.Interactions?a powerful and challenging tool for building deep relationships between you and your group members, and you and God. Interactions is far more than another group Bible study. It's a cutting-edge series designed to help small group participants develop into fully devoted followers of Christ.
- Publisher


Meet the Authors
Kevin Harney
Kevin G. Harney is the Teaching Pastor and Evangelism Champion at Faith Church in Dyer, Indiana and Central Wesleyan Church in Holland, MI. He is also on the Teaching Team of the campus ministry at Grand Valley State University in Allendale, Michigan. He is author of Leadership from the Inside Out: Examining the Inner Life of a Healthy Church Leader; Seismic Shifts, the little changes that make a BIG difference in your life; John: An Intimate Look at the Saviour; Ephesians: Bringing Heaven to Earth, and co-author of the Willow Creek Interactions series, the Willow Creek New Community series, the Old Testament Challenge series, and Finding a Church You Can Love and Loving the Church You've Found.
Bill Hybels
Bill Hybels is the founding and senior pastor of Willow Creek Community Church in South Barrington, Illinois, one of the largest and most influential churches in North America, and the chairman of the board for Willow Creek Association. He convened The Global Leadership Summit in 1995, following a God-given prompting to help raise and develop the spiritual gift of leadership for the local church.

Both visionary and passionate about seeing every local church reach its full God-given potential, he speaks around the world on strategic issues related to leadership, evangelism, and church growth. An exceptional communicator, he is a best-selling author of more than 20 books on personal evangelism, marriage and especially on the subject of Christian leadership, including Just Walk Across the Room, Courageous Leadership and the newly released, The Power of a Whisper: Hearing God and Having the Guts to Respond.

Bill received a bachelor's degree in Biblical Studies and an honorary Doctorate of Divinity from Trinity College in Deerfield, IL. He and his wife, Lynne, have two adult children and one grandson.
Other Titles In The "Interactions Small Group" Series View All