Intergenerational Christian Formation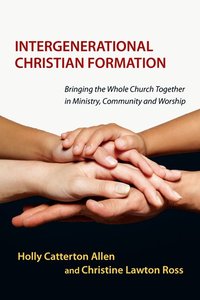 "One generation commends your works to another; they tell of your mighty acts." Psalm 145:4 Most churches and faith communities segment their ministries by age and generation. The kids go to children's church, the teens go to youth group. Worship services are geared toward different generational preferences, and small groups gather people at the same life stage, whether singles, young marrieds, parents or empty nesters. In some congregations, people may never interact with those of other ages. But it was not always so. Throughout biblical tradition and the majority of history, communities of faith included people of all ages together in corporate worship, education and ministry. The church was not just multigenerational; it was intergenerational, with the whole church together as one family and people of all ages learning from one another in common life. In this comprehensive text, Holly Allen and Christine Ross offer a complete framework for intentional intergenerational Christian formation. They provide the theoretical foundations for intergenerationality, showing how learning and spiritual formation are better accomplished through intergenerational contexts. It is not just elders teaching youth; learning also takes place when adults discover fresh insights from children. Then the authors give concrete guidance for intergenerational praxis on how worship, learning, community and service can all be achieved intergenerationally. Case studies of intergenerational congregations provide models for how a culture of intergenerationality can be created in local churches. This volume serves as an essential guide for all preparing for and involved in congregational ministry and formation. Discover the riches of intergenerational ministry, and let all generations commend the works of God to one another.

- Publisher
You May Also Be Interested In
About "Intergenerational Christian Formation"
"One generation commends your works to another; they tell of your mighty acts." Psalm 145:4 Most churches and faith communities segment their ministries by age and generation. The kids go to children's church, the teens go to youth group. Worship services are geared toward different generational preferences, and small groups gather people at the same life stage, whether singles, young marrieds, parents or empty nesters. In some congregations, people may never interact with those of other ages. But it was not always so. Throughout biblical tradition and the majority of history, communities of faith included people of all ages together in corporate worship, education and ministry. The church was not just multigenerational; it was intergenerational, with the whole church together as one family and people of all ages learning from one another in common life. In this comprehensive text, Holly Allen and Christine Ross offer a complete framework for intentional intergenerational Christian formation. They provide the theoretical foundations for intergenerationality, showing how learning and spiritual formation are better accomplished through intergenerational contexts. It is not just elders teaching youth; learning also takes place when adults discover fresh insights from children. Then the authors give concrete guidance for intergenerational praxis on how worship, learning, community and service can all be achieved intergenerationally. Case studies of intergenerational congregations provide models for how a culture of intergenerationality can be created in local churches. This volume serves as an essential guide for all preparing for and involved in congregational ministry and formation. Discover the riches of intergenerational ministry, and let all generations commend the works of God to one another.
- Publisher


Meet the Authors
Holly Catterton Allen
Holly Catterton Allen (Ph.D., Talbot School of Theology) is professor of Christian ministries and director of the child and family studies program at John Brown University in Siloam Springs, Arkansas. She currently holds the J. Vernon McGee endowed Chair at JBU. She teaches undergraduate courses such as critical concerns with children, nurturing spiritual development in children, and ministry with families across the lifespan. She received the faculty of the year award at JBU in Spring 2009. Dr. Allen's areas of scholarly interest are children's spirituality and intergenerational issues. Her m
Christine Lawton Ross
Christine Lawton Ross (Ph.D., St. Louis University) is professor of Christian education and director of the Christian education program at Concordia University in Irvine, California. She has worked in congregational ministry and has taught in intergenerational, multicultural and overseas contexts. She is also the author of several Bible studies and Sunday school curriculum resources.
Table Of Contents
Acknowledgments

Venturing Into Intergenerationality: Our Stories

Introduction

part One: Generational Realities

1. What Is The Problem?

2. How Did We Get Here? Why Churches Tended To Separate The Generations

3. Why Bring The Generations Back Together? The Benefits Of Intergenerationality

4. What Shall We Name This Approach?

part Two: Biblical, Theological, And Theoretical Support

5. Feasts, Jehoshaphat And House Churches: Biblical Foundations

6. Growing Each Other Up: Theoretical Foundations

7. Midwives, Tailors And Communities Of Practice: Learning Theory

8. The Trinity, Koinonia And The Body: Theological Foundations

part Three: Support From The Social Sciences

9. Becoming Christian In Community: "religious Socialization"

10. The Very Old And The Very Young: Contributions From Gerontology

11. Millennials, Xers, Boomers And Silents: Generational Theory

12. By The Numbers: Empirical Research

part Four: Intergenerational Christian Formation Practices

13. Creating A Culture Of Intergenerationality

14. Intergenerational Worship

15. Intergenerational Learning Experiences

16. Intergenerationality And Story Sharing

17. Intergenerational Service And Missions

18. Intergenerational Small Groups

19. Cross-generational Relationships In Multicultural Churches

20. Intergenerationality And Megachurches

Conclusion

Appendix A: Forty Intergenerational Ideas

Appendix B: Intergenerational Resources

Appendix C: Biblical Passages That Reflect An Intergenerational Outlook