Interrupted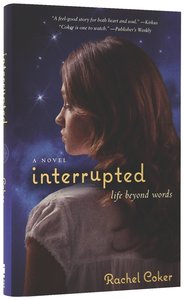 In 15-year-old author Rachel Coker's young adult debut, young Allie Everly's life is changed forever by the illness and death of her beloved mother and subsequent adoption by an older woman in Maine. Bitter and feeling unloved, Allie rejects her new mother and her new mother's faith and throws herself into her poetry, until Sam Carroll, her best friend from the past, arrives. With Sam comes a host of confusing emotions, and Allie finds she must overcome her past in order to find forgiveness.

- Publisher
You May Also Be Interested In
About "Interrupted"
In 15-year-old author Rachel Coker's young adult debut, young Allie Everly's life is changed forever by the illness and death of her beloved mother and subsequent adoption by an older woman in Maine. Bitter and feeling unloved, Allie rejects her new mother and her new mother's faith and throws herself into her poetry, until Sam Carroll, her best friend from the past, arrives. With Sam comes a host of confusing emotions, and Allie finds she must overcome her past in order to find forgiveness.

- Publisher
- Koorong

Can love really heal all things? If Sam Carroll hadn't shown up, she might have been able to get to her mother in time. Instead, Allie Everly finds herself at a funeral, mourning the loss of her beloved mother. She is dealt another blow when, a few hours later, she is sent from Tennessee to Maine to become the daughter of Miss Beatrice Lovell, a prim woman with a faith Allie cannot accept. Poetry and letters written to her mother become the only things keeping Allie's heart from hardening completely. But then Sam arrives for the summer, and with him comes many confusing emotions, both toward him and the people around her. As World War II looms, Allie will be forced to decide whether hanging on to the past is worth losing her chance to be loved.
- Publisher


Meet the Author
Rachel Coker
Rachel Coker is a homeschool student who lives in Virginia with her parents and two sisters. She has a passion for great books and has been surrounded by them all her life. In fact, as a young child, Rachel helped her parents in a family-run Christian book business. Her gift for writing became apparent at the age of eleven, at which time her parents signed her up for a year of lessons with a professional writing coach. When she is not writing or playing the piano, Rachel enjoys spending time with her family and friends.
Media