Into the Whirlwind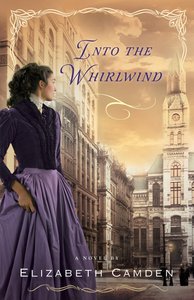 As owner of the 57th Illinois Watch Company, Mollie Knox's future looks bright until the night the legendary Great Chicago Fire destroys her beloved city. With her world crumbling around her, Mollie will do whatever it takes to rebuild in the aftermath of the devastating fire.

Zack Kazmarek, an influential attorney for one of Chicago's finest department stores, is a force to be reckoned with among the city's most powerful citizens. Bold and shrewd, he's accustomed to getting exactly what he wants--until he meets Mollie Knox, the beguiling businesswoman just beyond his reach.

In the tumult as the people of Chicago race to rebuild a bigger and better city, Mollie comes face-to-face with the full force of Zack's character and influence. Zack believes this may finally be his chance to win her, but can Mollie ever accept this man and his whirlwind effect on her life, especially with her treasured company on the line?

" A sweet, emotion-filled romance to warm the heart and touch the soul... The cast of characters is varied and lovingly detailed, colorful and bursting with life." --Publishers Weekly

"Into the Whirlwind is a delight. Elizabeth Camden shows remarkable ability to breathe life into nineteenth-century Chicago and its people. If you are a fan of historical romantic suspense, I cannot recommend this book or this author too highly."-Davis Bunn, bestselling author of Rare Earth

"Camden takes readers on a breathless ride with smart, serious Mollie in the midst of tragedy and rui" -- RT Book Reviews

- Publisher
You May Also Be Interested In
About "Into the Whirlwind"
As owner of the 57th Illinois Watch Company, Mollie Knox's future looks bright until the night the legendary Great Chicago Fire destroys her beloved city. With her world crumbling around her, Mollie will do whatever it takes to rebuild in the aftermath of the devastating fire.

Zack Kazmarek, an influential attorney for one of Chicago's finest department stores, is a force to be reckoned with among the city's most powerful citizens. Bold and shrewd, he's accustomed to getting exactly what he wants--until he meets Mollie Knox, the beguiling businesswoman just beyond his reach.

In the tumult as the people of Chicago race to rebuild a bigger and better city, Mollie comes face-to-face with the full force of Zack's character and influence. Zack believes this may finally be his chance to win her, but can Mollie ever accept this man and his whirlwind effect on her life, especially with her treasured company on the line?

" A sweet, emotion-filled romance to warm the heart and touch the soul... The cast of characters is varied and lovingly detailed, colorful and bursting with life." --Publishers Weekly

"Into the Whirlwind is a delight. Elizabeth Camden shows remarkable ability to breathe life into nineteenth-century Chicago and its people. If you are a fan of historical romantic suspense, I cannot recommend this book or this author too highly."-Davis Bunn, bestselling author of Rare Earth

"Camden takes readers on a breathless ride with smart, serious Mollie in the midst of tragedy and rui" -- RT Book Reviews
- Publisher


Meet the Author
Elizabeth Camden
Elizabeth Camden, author of "The Lady of Bolton Hill" and "The Rose of Winslow Stree"t, received a master's in history from University of Virginia and a master's in library science from Indiana University. She is a research librarian by day and scribbles away on her next novel by night. Elizabeth is a member of ACFW and RWA and lives with her husband in Florida. Visit her website at ElizabethCamden.com A
Customer Reviews For "Into the Whirlwind"
Write Your Own Review
You'll love Mollie
By Lisa,

Jan 19 2015
The characters in this novel were very well developed and I relished every opportunity I had to cuddle up with this book.  I enjoyed the historical reference to the Chicago Fires, and appreciated the insight into immigrant life and pride during that era.  Lovely, clean and uplifting.
---
A good one
By Lynne Stringer,

Mar 23 2014
I have become a fan of Elizabeth Camden's work, and this novel was a good one, although not without a couple of minor problems. I think it was a little on the long side, the Christian element seemed a little forced, and at times the storyline seemed to jump awkwardly between threads. Mind you, there was a lot to cover and it did fit the disjointed sense that must have existed after the Chicago fire which is the historical centrepiece of this novel.
Ms Camden has a wonderful way of making me like her male protagonists. They are frequently giant, loud, brash bears of men, not a type I normally find appealing, but with the soft centres she brings to them I find they win my heart, even while they are being ham-fisted when it comes to anything sensitive. She certainly knows how to draw a character well and that is something I delight in. 
---
Whirlwind of a Ride
By Jessica R. Wakefield,

Sep 04 2013
It's no secret that I'm a fan of Elizabeth Camden's books. So I was really happy to dive into her latest book. I have to say that while I was interested and at no stage did I want to stop reading the book, I did not love it.

I've been mulling on this fact for a few days now, trying to figure out why this is. First off though, the things I did love. Setting the story amidst the Great Chicago Fire was great! I didn't know much at all about this and was fascinated by the events of that time, thus I eagerly devoured the story based on this. Watching the characters reconstruct their lives amongst the debris' of a broken city was great. Reading this book made me want to go to Chicago and learn all about the fire.The pace was quick and kept me on the edge of my seat for much of the book - always a good thing.

What I had trouble with really, was Zack and Mollie. I found the basis of their relationship hard to grapple with and believe. At some stages, I really didn't like the way these two treated each other. For me, the romance happened so fast and derailed so fast that I wasn't sure these two actually had time to process their feelings for each other - especially Mollie. Yet, through all this I was still rooting for them and wishing Mollie would seriously get her head together make the right choices - on many levels not just with Zack.

So, considering I felt passionately about this book, must mean that although I didn't love it, it impacted me. That's a sign of a good writer! I struggled with Zack and Mollie, like I might struggle with people in my life acting the way these two did - frustrating and exasperating.

So what do I recommend? This is a well-written, fast paced read packed with great historical insight, with characters who will grab your heart (in both great and frustrating ways) and stay with you after you've finished the book. That's generally a recipe to read a book!
---
Outstanding Romance set around 1871 Chicago Fire
By Iola,

Aug 09 2013
The story kicks straight in to the action, showing Mollie and Zack trying to escape the fire, before taking us back six days to the morning where Zack presents his offer. We are introduced to some of the employees of the 57th, named for the regiment Mollie's father fought for in the war-the small business employs fifteen veterans from the 57th, all disabled in one way or another, and all who rely on Mollie for a livelihood. 

Mollie, Richard and Zack were all likeable characters, backed up by a strong cast of supporting characters, especially Zack's mother and some of the employees of the 57th.  The plot was excellent-very fast-paced, with a high level of tension in the scenes between Mollie and the two very different me, but particularly in the scenes during the fire. While it is Christian fiction, the faith elements were very low-key, and I think anyone who enjoys historical romance with a high level of drama would enjoy Into the Whirlwind. One of the best books I've read this year-recommended.  Thanks to Bethany House and NetGalley for providing a free ebook for review.
{{review.title}}
By {{review.author.name}},

{{review.reviewCreatedDate | date:'MMM dd yyyy'}}

{{reviewdescription}}
{{review.text}}
---