Into Your Hand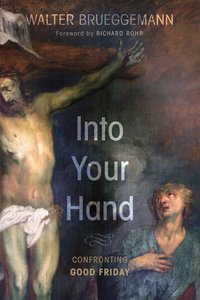 This set of seven sermons follows the traditional church sequence of "The Seven Last Words of the Cross," utterances that the gospel narratives place on the lips of Jesus. These utterances are drawn from the several gospel narratives. In the liturgical life of the church, however, the sequence has a significance and staying power of its own quite apart from the gospel narratives in which the utterances are embedded. These sermons take seriously the faith voiced by Jesus in his context of wretched abuse by the Roman Empire. They attempt, moreover, to connect that reality of faith and abuse in our contemporary world of concentrated, ruthless power. The intent of such sermons on Good Friday is to replicate for us in our context what such an interface of faith and abuse must have been like. These sermons were preached last Good Friday in the preacher's home congregation.

- Publisher
You May Also Be Interested In
About "Into Your Hand"
This set of seven sermons follows the traditional church sequence of "The Seven Last Words of the Cross," utterances that the gospel narratives place on the lips of Jesus. These utterances are drawn from the several gospel narratives. In the liturgical life of the church, however, the sequence has a significance and staying power of its own quite apart from the gospel narratives in which the utterances are embedded. These sermons take seriously the faith voiced by Jesus in his context of wretched abuse by the Roman Empire. They attempt, moreover, to connect that reality of faith and abuse in our contemporary world of concentrated, ruthless power. The intent of such sermons on Good Friday is to replicate for us in our context what such an interface of faith and abuse must have been like. These sermons were preached last Good Friday in the preacher's home congregation.
- Publisher


Meet the Authors
Walter Brueggemann
Dr. Walter Brueggemann (Th.D., Union Theological Seminary, New York:; Ph.D., St. Louis University) is Professor Emeritus of Old Testament Theology and Interpretation at Columbia Theological Seminary, Decatur, GA .
His award-winning Theology of the Old Testament (Fortress Press, 1997) quickly became a foundational work in the field. The Association of Theological Booksellers presented Walter Brueggemann and Fortress Press with a Theologos Award for Best General Interest Book at a dinner in Brueggemann's honor, for the award-winning book, Deep Memory, Exuberant Hope: Contested Truth in a Post-Christian World.
His recent publications include Mandate to Difference: An Invitation to the Contemporary Church, The Theology of the Book of Jeremiah, Like Fire in the Bones: Listening for the Prophetic Word in Jeremiah, and The Word That Redescribes the World: The Bible and Discipleship.
Richard Rohr
Father Richard Rohr (born 1943) is an internationally recognised ecumenical teacher bearing witness to the universal awakening within Christian mysticism. He is a Franciscan priest of the New Mexico Province and founder of the Center for Action and Contemplation (CAC.org) in Albuquerque, where he is also academic dean. The mission of this school is to produce compassionate and powerfully learned individuals who will work for positive change in the world based on awareness of our common union with God and all beings. Fr. Richard's teaching is grounded in Franciscan alternative orthodoxy - practices of contemplation and self-emptying - expressing itself in radical compassion, particularly for the socially marginalized.

Fr. Richard is the author of numerous books, including Everything Belongs, Adam's Return, The Naked Now, Breathing Under Water, Falling Upward, Immortal Diamond, and Eager to Love: The Alternative Way of Francis of Assisi.