Introducing Christian Doctrine (3rd Edition)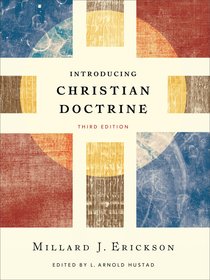 Leading evangelical scholar Millard Erickson offers a new edition of his bestselling doctrine text (over 100,000 copies sold), now thoroughly revised throughout. This book is an abridged, less technical version of Erickson's classic Christian Theology. Pastors and students alike will find this survey of Christian theology and doctrine to be biblical, contemporary, moderate, and fair to various positions. It is a practical and accessible resource that applies doctrine to Christian life and ministry. This book is supplemented with helpful web materials for students and professors through Baker Academic's Textbook eSources.

- Publisher
You May Also Be Interested In
About "Introducing Christian Doctrine (3rd Edition)"
Leading evangelical scholar Millard Erickson offers a new edition of his bestselling doctrine text (over 100,000 copies sold), now thoroughly revised throughout. This book is an abridged, less technical version of Erickson's classic Christian Theology. Pastors and students alike will find this survey of Christian theology and doctrine to be biblical, contemporary, moderate, and fair to various positions. It is a practical and accessible resource that applies doctrine to Christian life and ministry. This book is supplemented with helpful web materials for students and professors through Baker Academic's Textbook eSources.
- Publisher


Meet the Author
Millard J Erickson
Millard Erickson (Ph.D., Northwestern University) is Distinguished Professor of Theology at Western Seminary, and the author of the widely acclaimed systematics work Christian Theology along with more than 20 other books. He was professor of theology and academic dean at Bethel Seminary for many years. His most recent book is of some importance Who's Tampering with the Trinity? An Assessment of the Subordination Debate, in the light of recent attempts to place the Son in an eternally subordinate position to the Father.
Table Of Contents
Leading Evangelical Scholar Millard Erickson Offers A New Edition Of His Bestselling Doctrine Text (over 100,000 Copies Sold), Now Thoroughly Revised Throughout. This Book Is An Abridged, Less Technical Version Of Erickson's Classic christian Theology. Pastors And Students Alike Will Find This Survey Of Christian Theology And Doctrine To Be Biblical, Contemporary, Moderate, And Fair To Various Positions. It Is A Practical And Accessible Resource That Applies Doctrine To Christian Life And Ministry. This Book Is Supplemented With Helpful Web Materials For Students And Professors Through Baker Academic's Textbook Esources.