Introducing Eastern Orthodox Theology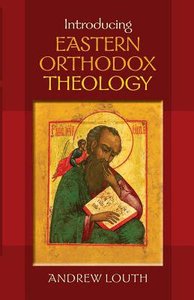 The author is a world authority on Orthodox thought. This introduction is written in lively, non-technical language for readers of all religious backgrounds. 1. Introduction: Who are the Orthodox 2. Thinking and doing, being and praying: Where do we start? 3. Who is God? The doctrine of the Holy Trinity; apophatic theology 4. Creation; Wisdom of God (Sophia); Angels and humankind 5. What went wrong? Sin and death 6. Who is Christ? The life of Christ; the Paschal mystery; Christology 7. What is it to be human? Being in the image of God; becoming God; deification. 8. Icons and Sacraments: the place of matter in the divine economy 9. Time and the Liturgy 10. Where are we going? The last things and eternal life

- Publisher
You May Also Be Interested In
About "Introducing Eastern Orthodox Theology"
The author is a world authority on Orthodox thought. This introduction is written in lively, non-technical language for readers of all religious backgrounds. 1. Introduction: Who are the Orthodox 2. Thinking and doing, being and praying: Where do we start? 3. Who is God? The doctrine of the Holy Trinity; apophatic theology 4. Creation; Wisdom of God (Sophia); Angels and humankind 5. What went wrong? Sin and death 6. Who is Christ? The life of Christ; the Paschal mystery; Christology 7. What is it to be human? Being in the image of God; becoming God; deification. 8. Icons and Sacraments: the place of matter in the divine economy 9. Time and the Liturgy 10. Where are we going? The last things and eternal life
- Publisher


Meet the Author
Andrew Louth
Dr Andrew Louth is Professor of Patristic and Byzantine Studies, University of Durham, and General Editor (with Gillian Clark) of Oxford Early Christian Studies. He is the author of Denys the Areopagite, St John Damascene tradition and originality in Byzantine theology, Greek east and Latin west the church AD 681-1071 and most recently Love.
Koorong -Editorial Review.