Introducing Logic and Critical Thinking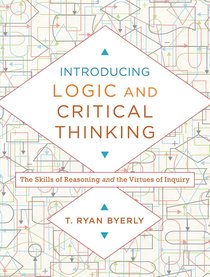 This robust, clear, and well-researched textbook for classes in logic introduces students to both formal logic and to the virtues of intellectual inquiry. Part 1 challenges students to develop the analytical skills of deductive and inductive reasoning, showing them how to identify and evaluate arguments. Part 2 helps students develop the intellectual virtues of the wise inquirer. The book includes helpful pedagogical features such as practice exercises and a concluding summary with definitions of key concepts for each chapter. Resources for professors and students are available through Baker Academic's Textbook eSources.

- Publisher
You May Also Be Interested In
About "Introducing Logic and Critical Thinking"
This robust, clear, and well-researched textbook for classes in logic introduces students to both formal logic and to the virtues of intellectual inquiry. Part 1 challenges students to develop the analytical skills of deductive and inductive reasoning, showing them how to identify and evaluate arguments. Part 2 helps students develop the intellectual virtues of the wise inquirer. The book includes helpful pedagogical features such as practice exercises and a concluding summary with definitions of key concepts for each chapter. Resources for professors and students are available through Baker Academic's Textbook eSources.
- Publisher


Table Of Contents
This Robust, Clear, And Well-researched Textbook For Classes In Logic Introduces Students To Both Formal Logic And To The Virtues Of Intellectual Inquiry. Part 1 Challenges Students To Develop The Analytical Skills Of Deductive And Inductive Reasoning, Showing Them How To Identify And Evaluate Arguments. Part 2 Helps Students Develop The Intellectual Virtues Of The Wise Inquirer. The Book Includes Helpful Pedagogical Features Such As Practice Exercises And A Concluding Summary With Definitions Of Key Concepts For Each Chapter. Resources For Professors And Students Are Available Through Baker Academic's Textbook Esources.