Introducing the New Testament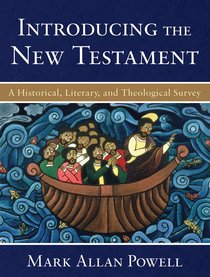 This beautifully written and engaging survey offers an up-to-date New Testament introduction for undergraduate students and general readers. Powell presents disputed and controversial issues fairly, neither dictating conclusions nor privileging skepticism over faith-based perspectives. The book is written in a lively and engaging style and includes helpful sidebars, maps, tables, charts, glossary, diagrams, and suggestions for further reading. In addition, this full-color book includes beautiful artwork illustrating the reception of the New Testament through various times and cultures. A companion Web site will feature a wealth of additional resources for students and instructors.

- Publisher
You May Also Be Interested In
About "Introducing the New Testament"
This beautifully written and engaging survey offers an up-to-date New Testament introduction for undergraduate students and general readers. Powell presents disputed and controversial issues fairly, neither dictating conclusions nor privileging skepticism over faith-based perspectives. The book is written in a lively and engaging style and includes helpful sidebars, maps, tables, charts, glossary, diagrams, and suggestions for further reading. In addition, this full-color book includes beautiful artwork illustrating the reception of the New Testament through various times and cultures. A companion Web site will feature a wealth of additional resources for students and instructors.
- Publisher


Meet the Author
Mark Allan Powell
Mark Allan Powell (Ph.D., Union Theological Seminary, Richmond) is the Robert and Phyllis Leatherman Professor of New Testament at Trinity Lutheran Seminary in Columbus, Ohio. He is a leading biblical scholar and the author of numerous articles and books including Introduction to the New Testament; Loving Jesius; Giving to God; Mark: God's Grace in Action and What Is Narrative Criticism?
Table Of Contents
This Beautifully Written And Engaging Survey Offers An Up-to-date New Testament Introduction For Undergraduate Students And General Readers. Powell Presents Disputed And Controversial Issues Fairly, Neither Dictating Conclusions Nor Privileging Skepticism Over Faith-based Perspectives. The Book Is Written In A Lively And Engaging Style And Includes Helpful Sidebars, Maps, Tables, Charts, Glossary, Diagrams, And Suggestions For Further Reading. In Addition, This Full-color Book Includes Beautiful Artwork Illustrating The Reception Of The New Testament Through Various Times And Cultures. A Companion Web Site Will Feature A Wealth Of Additional Resources For Students And Instructors.