Introduction to Messianic Judaism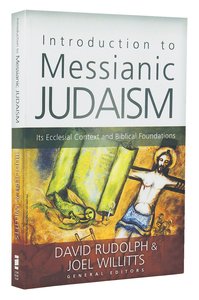 This book is the go-to source for introductory information on Messianic Judaism. Editors David Rudolph and Joel Willitts have assembled a thorough examination of the ecclesial context and biblical foundations of the diverse Messianic Jewish movement. Unique among similar works in its Jew-Gentile partnership, this book brings together a team of respected Messianic Jewish and Gentile Christian scholars, including Mark Kinzer, Richard Bauckham, Markus Bockmuehl, Craig Keener, Darrell Bock, Scott Hafemann, Daniel Harrington, R. Kendall Soulen, Douglas Harink and others. Opening essays, written by Messianic Jewish scholars and synagogue leaders, provide a window into the on-the-ground reality of the Messianic Jewish community and reveal the challenges, questions and issues with which Messianic Jews grapple. The following predominantly Gentile Christian discussion explores a number of biblical and theological issues that inform our understanding of the Messianic Jewish ecclesial context. Here is a balanced and accessible introduction to the diverse Messianic Jewish movement that both Gentile Christian and Messianic Jewish readers will find informative and fascinating.

- Publisher
You May Also Be Interested In
About "Introduction to Messianic Judaism"
This book is the go-to source for introductory information on Messianic Judaism. Editors David Rudolph and Joel Willitts have assembled a thorough examination of the ecclesial context and biblical foundations of the diverse Messianic Jewish movement. Unique among similar works in its Jew-Gentile partnership, this book brings together a team of respected Messianic Jewish and Gentile Christian scholars, including Mark Kinzer, Richard Bauckham, Markus Bockmuehl, Craig Keener, Darrell Bock, Scott Hafemann, Daniel Harrington, R. Kendall Soulen, Douglas Harink and others. Opening essays, written by Messianic Jewish scholars and synagogue leaders, provide a window into the on-the-ground reality of the Messianic Jewish community and reveal the challenges, questions and issues with which Messianic Jews grapple. The following predominantly Gentile Christian discussion explores a number of biblical and theological issues that inform our understanding of the Messianic Jewish ecclesial context. Here is a balanced and accessible introduction to the diverse Messianic Jewish movement that both Gentile Christian and Messianic Jewish readers will find informative and fascinating.
- Publisher


Meet the Authors
Joel Willitts
Joel Willitts (Ph.D., Cambridge University) is Assistant Professor of Biblical and Theological Studies at North Park University, Chicago. His research interests are Jewish Christianity, Jesus & the Gospels, Hasmonean & Roman Archaeology, Dead Sea Scrolls & New Testament, and he has authored Matthew's Messianic Shepherd-King, The Dead Sea Scrolls, I and II Esdras (LXXC Commentary on the Septuagint, Brill) and Matthew (New Covenant Commentary).
Koorong -Editorial Review.