Invitation to the Psalms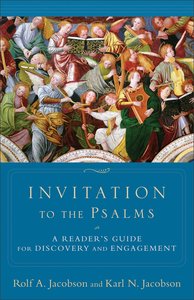 The Book of Psalms is perhaps the most cherished book in the Old Testament. In this lively volume, two experienced teachers invite students to read and explore the Psalter and roam widely among its poems. The book introduces the dynamics of the biblical text, helping students become careful and attentive readers. It covers how to read Hebrew poetry, the Psalter's basic genres, the idea of "the psalmist," the metaphorical world of the Psalms, and the theology of the Psalms. Sidebars, discussion questions, and plenty of examples enhance the reading experience. This clear and concise guide is accessible to all serious students of the Bible.

- Publisher
You May Also Be Interested In
About "Invitation to the Psalms"
The Book of Psalms is perhaps the most cherished book in the Old Testament. In this lively volume, two experienced teachers invite students to read and explore the Psalter and roam widely among its poems. The book introduces the dynamics of the biblical text, helping students become careful and attentive readers. It covers how to read Hebrew poetry, the Psalter's basic genres, the idea of "the psalmist," the metaphorical world of the Psalms, and the theology of the Psalms. Sidebars, discussion questions, and plenty of examples enhance the reading experience. This clear and concise guide is accessible to all serious students of the Bible.
- Publisher


Meet the Authors
Rolf Jacobson
Rolf A. Jacobson (Ph.D., Princeton Theological Seminary) is Associate Professor of Old Testament at Luther Seminary, St. Paul, Minnesota. . He has authored numerous books and Bible studies and is a contributing writer to The Lutheran Handbook (2005); The Lutheran Handbook II (2007), and most recently Sounding in the Theology of Psalms: Perspectives and Methods in Contemporary Scholarship
Table Of Contents
The Book Of Psalms Is Perhaps The Most Cherished Book In The Old Testament. In This Lively Volume, Two Experienced Teachers Invite Students To Read And Explore The Psalter And Roam Widely Among Its Poems. The Book Introduces The Dynamics Of The Biblical Text, Helping Students Become Careful And Attentive Readers. It Covers How To Read Hebrew Poetry, The Psalter's Basic Genres, The Idea Of "the Psalmist," The Metaphorical World Of The Psalms, And The Theology Of The Psalms. Sidebars, Discussion Questions, And Plenty Of Examples Enhance The Reading Experience. This Clear And Concise Guide Is Accessible To All Serious Students Of The Bible.