Isaiah (#06 in Expositor's Bible Commentary Revised Series)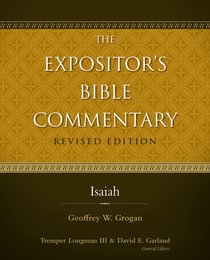 Continuing a Gold Medallion Award-winning legacy, this completely revised edition of The Expositor's Bible Commentary series puts world-class biblical scholarship in your hands. Based on the original twelve-volume set that has become a staple in college and seminary libraries and pastors' studies worldwide, this new thirteen-volume edition marshals the most current evangelical scholarship and resources. The thoroughly revised features consist of: • Comprehensive introductions • Short and precise bibliographies • Detailed outlines • Insightful expositions of passages and verses • Overviews of sections of Scripture to illuminate the big picture • Occasional reflections to give more detail on important issues • Notes on textual questions and special problems, placed close to the texts in question • Transliterations and translations of Hebrew and Greek words, enabling readers to understand even the more technical notes • A balanced and respectful approach toward marked differences of opinion
- Publisher
You May Also Be Interested In
About "Isaiah (#06 in Expositor's Bible Commentary Revised Series)"
Continuing a Gold Medallion Award-winning legacy, this completely revised edition of The Expositor's Bible Commentary series puts world-class biblical scholarship in your hands. Based on the original twelve-volume set that has become a staple in college and seminary libraries and pastors' studies worldwide, this new thirteen-volume edition marshals the most current evangelical scholarship and resources. The thoroughly revised features consist of: • Comprehensive introductions • Short and precise bibliographies • Detailed outlines • Insightful expositions of passages and verses • Overviews of sections of Scripture to illuminate the big picture • Occasional reflections to give more detail on important issues • Notes on textual questions and special problems, placed close to the texts in question • Transliterations and translations of Hebrew and Greek words, enabling readers to understand even the more technical notes • A balanced and respectful approach toward marked differences of opinion
- Publisher
Meet the Authors
Tremper Iii Longman (Ed)
Tremper Longman III (Ph.D., Yale University) is Robert H. Gundry Professor of Biblical Studies at Westmont College in Santa Barbara, California. He is also Visiting Professor of Old Testament at Mars Hill Graduate School, Westminster Theological Seminary and adjunct of Old Testament at Fuller Theological Seminary. He lectures regularly at Mars Hill, Regent College in Vancouver and the Canadian Theological Seminary in Calgary.
He is the author of commentaries on The Book of Job (Baker Commentary on the Old Testament Wisdom and Psalms) along with the published volume on Proverbs; Exodus (The Two Horizons Old Testament Commentary) and Jeremiah, Lamentations (New International Biblical Commentary), Daniel, Proverbs, Ecclesiastes and Song of Songs.
Longman is the author of How to Read Genesis, How to Read the Psalms, How to Read Proverbs and Literary Approaches to Biblical Interpretation, and co-editor of A Complete Literary Guide to the Bible and co-author with Dan Allender of Bold Love, Cry of the Soul, Intimate Allies, The Intimate Mystery and The Intimate Marriage Bible Studies.
David E Garland
David Garland, Ph.D. (Southern Baptist Theological Seminary) is William B. Hinson professor of Christian Scriptures and associate dean for academic affairs at George W. Truett Seminary, Baylor University. He is the New Testament editor for the revised Expositor's Bible Commentary and the Zondervan Exegetical Commentary of which he is writing the inaugural volume on The Gospel of Luke. He is the author of various books and commentaries, including Mark (an award winner) and Colossians/Philemon in the NIV Application Commentary, the article on Mark in the Zondervan Illustrated Bible Backgrounds Commentary, 2 Corinthians in the New American Commentary, 1 Corinthians in the Baker Exegetical Commentary of the New Testament which was highly awarded. He and his wife, Diana, with whom he has co-authored a number of titles on family and ministry, reside in Waco, Texas.
Other Titles In The "Expositor's Bible Commentary Revised" Series View All