Islam and Christianity on the Edge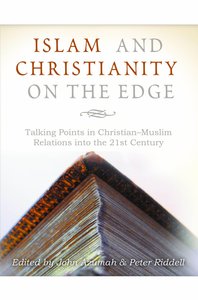 The relationship between Christianity and Islam is complex. This collection of essays by scholars and human rights activists engages with some of the most pressing issuesin Christian-Muslim relations, addressing matters of theology, the encounter between civilisations and inter-religious affairs. Some of the most controversial and sensitive questions are considered, ranging from sacred text to the politics of multiculturalism. These are key questions for the 21st century, a period when Christianity and Islam are destined to interact more closely than ever before in human history.

- Publisher
You May Also Be Interested In
About "Islam and Christianity on the Edge"
The relationship between Christianity and Islam is complex. This collection of essays by scholars and human rights activists engages with some of the most pressing issuesin Christian-Muslim relations, addressing matters of theology, the encounter between civilisations and inter-religious affairs. Some of the most controversial and sensitive questions are considered, ranging from sacred text to the politics of multiculturalism. These are key questions for the 21st century, a period when Christianity and Islam are destined to interact more closely than ever before in human history.
- Publisher


Meet the Authors
John Azumah
John Azumah holds a PhD in Islamics from the University of Birmingham, UK, and is the Director for the Centre of Islamic Studies at the London School of Theology. He has previously served as a Research Fellow with the Akrofi-Christaller Institute in Ghana. Dr. Azumah is the author of The Legacy of Arab-Islam in Africa: A Quest for Inter-Religious Dialogue (Oxford: Oneworld Publications, 2001) and has written articles on the subject in various academic journals.
Peter G Riddell (Ed)
Peter G. Riddell is Professor of Islamic Studies and Director of the Centre for Islamic Studies and Muslim-Christian Relations, at London School of Theology. He is the author of several books, including Islam and the Malay-Indonesian World: Transmission and Responses (Hurst) and Christians and Muslims (IVP); the co-author of Islam in Conflict (IVP); and the co-editor of Islam: Essays in Scripture, Thought and Society (Brill).