Islam: Human Rights and Public Policy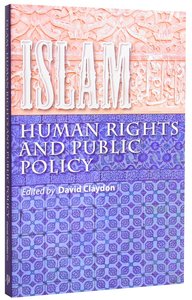 In this ground-breaking Australian book, a diverse group of international writers, scholars, and commentators shed light on some of the most pressing human rights and public policy challenges of our time. Contributors include thinkers of Muslim background with extensive personal experience in developing countries, and Western writers of both secular and religious orientation. Individual essays deal with the human rights of Muslims and non-Muslims alike, in areas ranging from women's rights to freedom of religion. Another valuable focus is on the challenges of adaptation that immigrant Muslim communities in the west face, as do non-Muslims as they seek to understand and come to terms with different Muslims' world views. Contentious areas of debate such as the sources of religious violence. and the implications of so-called islamisation, are not avoided, but addressed with openness, honesty, and candour. Other specific topics include multi-faith dialogue, Islamic finance, and the nature of Islamic law (Sharia). The book concludes with a set of practical concrete recommendations for individualss directly involved in setting relevant public policies.

- Publisher
You May Also Be Interested In
About "Islam: Human Rights and Public Policy"
In this ground-breaking Australian book, a diverse group of international writers, scholars, and commentators shed light on some of the most pressing human rights and public policy challenges of our time. Contributors include thinkers of Muslim background with extensive personal experience in developing countries, and Western writers of both secular and religious orientation. Individual essays deal with the human rights of Muslims and non-Muslims alike, in areas ranging from women's rights to freedom of religion. Another valuable focus is on the challenges of adaptation that immigrant Muslim communities in the west face, as do non-Muslims as they seek to understand and come to terms with different Muslims' world views. Contentious areas of debate such as the sources of religious violence. and the implications of so-called islamisation, are not avoided, but addressed with openness, honesty, and candour. Other specific topics include multi-faith dialogue, Islamic finance, and the nature of Islamic law (Sharia). The book concludes with a set of practical concrete recommendations for individualss directly involved in setting relevant public policies.
- Publisher


Meet the Author
David Claydon
Rev Dr Canon David Claydon, was Federal Secretary of the Church Missionary Society and Former International Director Of The Lausanne Committee For World Evangelization. He completed doctoral studies in missiology, and has written and lectured extensively on missions and ministry including a excellent book on connecting the gospel to other faiths Connecting Across Cultures: Sharing the gospel across cultural and religious boundaries.
Table Of Contents
Preface; List Of Abbreviations; Part 1: Introducing The Issues; 1. Australian Public Policy: Examining The Foundations; 2. The Hidden Currents Of Western Responses To Islam; Appendix: 'the Pact Of 'umar' - From The Commentary Of Ibn Kathir (d. 1373); 3. Human Rights In Jeopardy: A Cautionary Tale From The Uk; 4. Muhammad's Life - The Fundamental Example; Part 2: Human Rights For The Whole Community; 5.human Rights, Sharia Law And Democracy; 6. The Question Of Islamic Freedom; 7. Women In Islam - Status, Restrictions And Attitudes; Part 3: Violence And Peace; 8. The Creed Of The Sword; 9. Spreading Islam: Personal And Community Motivations For Jihad And Terrorism; Part 4: Sharia And Islamisation; 10. The Sharia - Islamic Law; Case Study: Amina Lawal And The Islamic Sharia; 11. The World Of The Fatwa; 12. Anti-terrorism Fatwas And Pacts For Peace; 13. Eurabia - Europe's Future?; 14. Aspects Of Sharia Introduced Into Non-islamic States; Case Study: Ontario And Quebec, Canada - Muslims Rally Against Islamists To Defeat Sharia; 15. Islamic Finance; 16. Hijra - Migration - As A Contemporary Political Tool; Part 5: Dialogue And Da'wa; 17.ignoring Signposts On The Road: Da'wa - Jihad With A Velvet Glove; 18. Religious Policy, Multi-faith Dialogue And Australian Values; Conclusion; 19. Principles For Development Of Public Policy; Significant Books; About The Authors; Glossary And Transliteration Of Arabic Words; Index.