Israelite Religions: An Archaeological and Biblical Survey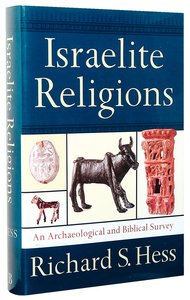 Archaeological excavation in the Holy Land has exploded with the resurgence of interest in the historical roots of the biblical Israelites. Israelite Religions,/i> offers Bible students and interested lay leaders a survey of the major issues and approaches that constitute the study of ancient Israelite religion. Unique among books on the subject, Israelite Religions takes the Bible seriously as a historical source, balancing the biblical material with relevant evidence from archaeological finds.

Contents:
1. Approaches To The Study Of Religion
2. Previous Study Of Israelite Religion
3. Pre-Israelite West Semitic Religion: Syria And Egypt
4. Pre-Israelite West Semitic Religion: Palestine And Jordan
5. Narrative And Legal Strands Of The Pentateuch
6. Priestly And Cultic Strands Of The Pentateuch
7. Early Israel And The United Monarchy
8. Written Sources For The Divided Monarchy
9. Archaelogical Sources For The Divided Monarcy
10. Exilic And Postexilic Religion



- Publisher "Richard S. Hess, well known for his numerous studies in biblical and ancient Near Eastern topics, now brings his extensive knowledge to bear on 'Israelite religions.' The plural form of the title is decisive: everywhere the accent is on the pluriformity and complexity of Israelite religion(s) in various periods and locales. The subtitle is equally critical: Hess surveys an immense array of biblical and archaeological data both judiciously and economically. Throughout the book, Hess's attention to what may be unique or distinctive about Israelite religion(s) vis-? -vis its cultural congeners is instructive. Moreover, his care to define key terms, his correlation of textual and artifactual material, his awareness of the relationship of Israelite religion to biblical theology, as well as his trademark skill in onomastics--not to mention the useful and extensive bibliography--are among the aspects that make the present book not only welcome but also essential reading on the subject."--Brent A. Strawn, associate professor of Old Testament, Candler School of Theology and Graduate Division of Religion, Emory University"Richard Hess's book on Israelite religions displays impressive knowledge of their archaeological and ancient Near Eastern background as well as of the modern scholarly literature (over one thousand items in the bibliography!). Even those who will question some of Hess's more conservative conclusions will learn much from this fascinating volume."--John Day, professor of Old Testament studies, Oxford University"Echoing the works of William Foxwell Albright and Cyrus Gordon, Richard Hess's new book on Israelite religion offers a survey of Israelite religion fundamentally based on the framework and claims of the Bible and informed by archaeological evidence and extrabiblical texts. The book provides a clear, conservative treatment of this material from the Middle and Late Bronze Age down through the demise of Judah in 586. To the scholarly discussion of these sources, Hess adds his own expertise, particularly in Bronze Age texts. The field now has a general treatment of Israelite religion produced by a scholar with a strong faith in the Bible's veracity. Even if readers do not share Hess's strong trust in either the Bible's historical claims or his high dating for many biblical texts and traditions, this volume nonetheless presents a good listing of research."--Mark S. Smith, Skirball Professor of Bible and Ancient Near Eastern Studies, New York University

- Publisher
You May Also Be Interested In
About "Israelite Religions: An Archaeological and Biblical Survey"
Archaeological excavation in the Holy Land has exploded with the resurgence of interest in the historical roots of the biblical Israelites. Israelite Religions,/i> offers Bible students and interested lay leaders a survey of the major issues and approaches that constitute the study of ancient Israelite religion. Unique among books on the subject, Israelite Religions takes the Bible seriously as a historical source, balancing the biblical material with relevant evidence from archaeological finds.

Contents:
1. Approaches To The Study Of Religion
2. Previous Study Of Israelite Religion
3. Pre-Israelite West Semitic Religion: Syria And Egypt
4. Pre-Israelite West Semitic Religion: Palestine And Jordan
5. Narrative And Legal Strands Of The Pentateuch
6. Priestly And Cultic Strands Of The Pentateuch
7. Early Israel And The United Monarchy
8. Written Sources For The Divided Monarchy
9. Archaelogical Sources For The Divided Monarcy
10. Exilic And Postexilic Religion


- Publisher

"Richard S. Hess, well known for his numerous studies in biblical and ancient Near Eastern topics, now brings his extensive knowledge to bear on 'Israelite religions.' The plural form of the title is decisive: everywhere the accent is on the pluriformity and complexity of Israelite religion(s) in various periods and locales. The subtitle is equally critical: Hess surveys an immense array of biblical and archaeological data both judiciously and economically. Throughout the book, Hess's attention to what may be unique or distinctive about Israelite religion(s) vis-? -vis its cultural congeners is instructive. Moreover, his care to define key terms, his correlation of textual and artifactual material, his awareness of the relationship of Israelite religion to biblical theology, as well as his trademark skill in onomastics--not to mention the useful and extensive bibliography--are among the aspects that make the present book not only welcome but also essential reading on the subject."--Brent A. Strawn, associate professor of Old Testament, Candler School of Theology and Graduate Division of Religion, Emory University"Richard Hess's book on Israelite religions displays impressive knowledge of their archaeological and ancient Near Eastern background as well as of the modern scholarly literature (over one thousand items in the bibliography!). Even those who will question some of Hess's more conservative conclusions will learn much from this fascinating volume."--John Day, professor of Old Testament studies, Oxford University"Echoing the works of William Foxwell Albright and Cyrus Gordon, Richard Hess's new book on Israelite religion offers a survey of Israelite religion fundamentally based on the framework and claims of the Bible and informed by archaeological evidence and extrabiblical texts. The book provides a clear, conservative treatment of this material from the Middle and Late Bronze Age down through the demise of Judah in 586. To the scholarly discussion of these sources, Hess adds his own expertise, particularly in Bronze Age texts. The field now has a general treatment of Israelite religion produced by a scholar with a strong faith in the Bible's veracity. Even if readers do not share Hess's strong trust in either the Bible's historical claims or his high dating for many biblical texts and traditions, this volume nonetheless presents a good listing of research."--Mark S. Smith, Skirball Professor of Bible and Ancient Near Eastern Studies, New York University
- Publisher


Meet the Author
Richard S Hess
Dr. Richard S. Hess (Ph.D., Hebrew Union College) is professor of Old Testament and Semitic languages at Denver Seminary. He has held National Endowment for the Humanities, Fulbright, and Tyndale House (Cambridge) postdoctoral fellowships and grants. Dr. Hess has done translation and revision work for the New International Version, New American Bible, Holman Standard Christian Bible, and English Standard Version translations of the Old Testament. He is an editor of a series of commentaries on the Septuagint and has translated books of the Septuagint for Logos Bible Software.
He has written commentaries on Joshua (Tyndale Old Testament Commentary)The Song of Songs (Baker Commentary on the Old Testament Wisdom and Psalms), Leviticus (Expositor's Bible Commentary revised), Job (Historical Commentary on the Old Testament), and 1 & 2 Kings (New International Commentary on the Old Testament), along with texts on Archaeology and the Old Testament, Hebrew Grammar, and the study of ancient Near Eastern texts related to the Old Testament.
Koorong-Editorial Review.
Table Of Contents
Introduction
1. Approaches To The Study Of Religion
2. Previous Study Of Israelite Religion
3. Pre-israelite West Semitic Religion: Syria And Egypt
4. Pre-israelite West Semitic Religion: Palestine And Jordan
5. Narrative And Legal Strands Of The Pentateuch
6. Priestly And Cultic Strands Of The Pentateuch
7. Early Israel And The United Monarchy
8. Written Sources For The Divided Monarchy
9. Archaeological Sources For The Divided Monarchy
10. Exilic And Postexilic Religion 11. Conclusions