Israel's Poetry of Resistance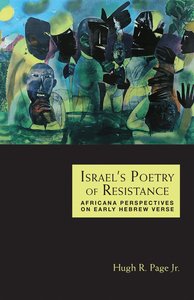 Noting that Israel's earliest responses to earth-shaking changes were cast in the powerfully expressive language of poetry, Hugh R. Page Jr. argues that the careful collection and preservation of these traditions was an act of resistance, a communal no to the forces of despair and a yes to the creative power of the Spirit. Further, Page argues, the power of these poems to craft and shape a future for a people who had suffered acute displacement and marginalization offers a rich spiritual repertoire for Africana peoples today, and for all who find themselves perennially outside the social or political mainstream.

- Publisher
You May Also Be Interested In
About "Israel's Poetry of Resistance"
Noting that Israel's earliest responses to earth-shaking changes were cast in the powerfully expressive language of poetry, Hugh R. Page Jr. argues that the careful collection and preservation of these traditions was an act of resistance, a communal no to the forces of despair and a yes to the creative power of the Spirit. Further, Page argues, the power of these poems to craft and shape a future for a people who had suffered acute displacement and marginalization offers a rich spiritual repertoire for Africana peoples today, and for all who find themselves perennially outside the social or political mainstream.
- Publisher


Meet the Author
Hugh Page
Hugh Page, Jr. (Ph.D., Harvard University) is The Walter Associate Professor of Theology, Department of Africana Studies at Notre Dame University. His published works include Exploring New Paradigms in Biblical and Cognate Studies (as editor), The Myth of Cosmic Rebellion: A Study of its Reflexes in Ugaritic and Biblical Literature, Waves, Clouds, and Flames: Impressions from Journeys Past and Present, and Exodus (People's Bible Commentary series). He is founder and president of the Institute for Ancient Near Eastern and Afroasiatic Cultural Research, a Research Associate of Human Relations Area Files at Yale University. Most recently he has edited The Africana Bible.
Table Of Contents
1.introducing Early Hebrew Poetry 2.the Poems: Translation And Commentary 3.the Poems Speak To African-american Spirituality 4.preaching The Transgressive Themes Of Hebrew Poetry 5.learning From Early Hebrew Bards: Maxims For Teachers 6.early Hebrew Poetry And The Cure Of Souls: Thoughts For Pastors 7.recovering Poetry As Way Of Life: Resources For Contemporary Africana Spirituality