It's the End of the Church as We Know It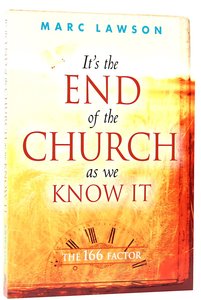 Speaking in favor of the power of God and against the traditions of men, Marc Lawson beleives that signs and wonders, miracles, and demonstrations of God's power are desperately needed to defeat the onslaught of darkness our culture is accepting and endorsing more and more each day. This book reflects a growing dissatisfaction with the current state of the church, saying there must be more God has for Christians "outside of the box."

- Publisher Many of today's churches are more concerned with entertainment, programs, and attendance numbers than healings, miracles, signs, and wonders and, most importantly, the Person of Jesus Christ. Author Marc Lawson believes that churches must turn back to the Book of Acts and rebuild God's Kingdom on the foundation of Jesus. His Kingdom is based on a lifestyle-not a building or the latest Charismatic or Evangelical fad.

- Publisher
You May Also Be Interested In
About "It's the End of the Church as We Know It"
Speaking in favor of the power of God and against the traditions of men, Marc Lawson beleives that signs and wonders, miracles, and demonstrations of God's power are desperately needed to defeat the onslaught of darkness our culture is accepting and endorsing more and more each day. This book reflects a growing dissatisfaction with the current state of the church, saying there must be more God has for Christians "outside of the box."
- Publisher

Many of today's churches are more concerned with entertainment, programs, and attendance numbers than healings, miracles, signs, and wonders and, most importantly, the Person of Jesus Christ. Author Marc Lawson believes that churches must turn back to the Book of Acts and rebuild God's Kingdom on the foundation of Jesus. His Kingdom is based on a lifestyle-not a building or the latest Charismatic or Evangelical fad.
- Publisher


Meet the Author
Marc Lawson
Marc and his wife Linda, have spent 29 years in full-time ministry. They desire to see the Body of Christ do the works of Jesus, as He spoke of in John 14:12, including miracles, signs, wonders, and healings as an everyday part of the believer's Kingdom lifestyle. They have five children and eight grandchildren and live in a suburb of Atlanta, Georgia.