James and Jude (Paideia Commentaries On The New Testament Series)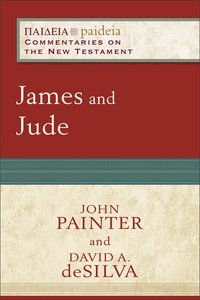 In this addition to the well-received Paideia series, two respected New Testament scholars offer a practical commentary on James and Jude that is conversant with contemporary scholarship, draws on ancient backgrounds, and attends to the theological nature of the texts.

This commentary, like each in the projected eighteen-volume series, proceeds by sense units rather than word-by-word or verse-by-verse. Paideia commentaries explore how New Testament texts form Christian readers by

• attending to the ancient narrative and rhetorical strategies the text employs
• showing how the text shapes theological convictions and moral habits
• commenting on the final, canonical form of each New Testament book
• focusing on the cultural, literary, and theological settings of the text
• making judicious use of maps, photos, and sidebars in a reader-friendly format

Students, pastors, and other readers will appreciate the historical, literary, and theological insight that John Painter and David deSilva offer in interpreting James and Jude.

- Publisher
You May Also Be Interested In
About "James and Jude (Paideia Commentaries On The New Testament Series)"
In this addition to the well-received Paideia series, two respected New Testament scholars offer a practical commentary on James and Jude that is conversant with contemporary scholarship, draws on ancient backgrounds, and attends to the theological nature of the texts.

This commentary, like each in the projected eighteen-volume series, proceeds by sense units rather than word-by-word or verse-by-verse. Paideia commentaries explore how New Testament texts form Christian readers by

• attending to the ancient narrative and rhetorical strategies the text employs
• showing how the text shapes theological convictions and moral habits
• commenting on the final, canonical form of each New Testament book
• focusing on the cultural, literary, and theological settings of the text
• making judicious use of maps, photos, and sidebars in a reader-friendly format

Students, pastors, and other readers will appreciate the historical, literary, and theological insight that John Painter and David deSilva offer in interpreting James and Jude.
- Publisher


Meet the Authors
John Painter
John Painter, PhD, FAHA, is the foundation professor of theology at Charles Sturt University, Canberra, Australia. He has published over one hundred chapters in academic books and journal articles. His previous books include John: Witness and Theologian, Reading John's Gospel Today, The Quest for the Messiah, Mark's Gospel: Worlds in Conflict, Theology as Hermeneutics: Rudolf Bultmann's Interpretation of the History of Jesus, and Just James: The Brother of Jesus in History and Tradition.
David A Desilva
David A. deSilva (PhD., Emory University) is Distinguished' Professor of New Testament and Greek at Ashland Theological Seminary in Ashland, Ohio. He is the author of numerous books including 4 Maccabees (Septuagint Commentary Series); the forthcoming 1 Peter (Rhetoric of Religious Antiquity Series), II Corinthians (New Covenant Commentary), Galatians (New International Commentary on the New Testament), Jude (Paideia Commentaries on the New Testament), Revelation (Socio-Rhetorical Commentaries), An Introduction to the New Testament: Contexts, Methods & Ministry Formation; Introducing the Apocrypha: Context, Message and Significance; New Testament Themes; Perseverance in Gratitude: A Socio-Rhetorical Commentary on the Epistle to the Hebrews; Honour, Patronage, Kinship and Purity: Unlocking New Testament Culture, and The Hope of Glory: Honour Discourse and New Testament Interpretation. He holds ordination in the Florida Conference of the United Methodist Church.
-Editorial Review.
Table Of Contents
In This Addition To The Well-received Paideia Series, Two Respected New Testament Scholars Offer A Practical Commentary On James And Jude That Is Conversant With Contemporary Scholarship, Draws On Ancient Backgrounds, And Attends To The Theological Nature Of The Texts.

This Commentary, Like Each In The Projected Eighteen-volume Series, Proceeds By Sense Units Rather Than Word-by-word Or Verse-by-verse. Paideia Commentaries Explore How New Testament Texts Form Christian Readers By

• Attending To The Ancient Narrative And Rhetorical Strategies The Text Employs
• Showing How The Text Shapes Theological Convictions And Moral Habits
• Commenting On The Final, Canonical Form Of Each New Testament Book
• Focusing On The Cultural, Literary, And Theological Settings Of The Text
• Making Judicious Use Of Maps, Photos, And Sidebars In A Reader-friendly Format

Students, Pastors, And Other Readers Will Appreciate The Historical, Literary, And Theological Insight That John Painter And David Desilva Offer In Interpreting James And Jude.
Other Titles In The "Paideia Commentaries On The New Testament Series" Series View All
$65.00




Available 0 Available. Expected to ship in 1 week from Australia.

Formats

$65.00




Available 0 Available. Expected to ship in 1 week from Australia.

Formats