Jesus According to Scripture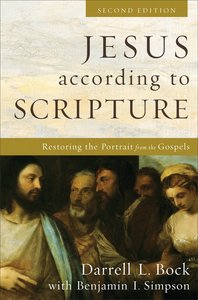 Updated Edition of a Bestselling Study of Jesus and the Gospels

In this work Darrell Bock, a leading evangelical New Testament scholar who speaks and teaches around the world, and Benjamin Simpson show that a coherent portrait of Jesus emerges from the four Gospels when they are taken seriously as historical documents. When read together, the Gospels provide a clear picture of Jesus and his unique claims to authority. This book surveys all the Gospel units and relates them to their parallel passages, showing how the literary and canonical relationships work. Offering up-to-date interaction with the latest discussions about Jesus, the second edition has been substantially revised and updated throughout and includes three new chapters on how we got the Gospels.

- Publisher
You May Also Be Interested In
About "Jesus According to Scripture"
Updated Edition of a Bestselling Study of Jesus and the Gospels

In this work Darrell Bock, a leading evangelical New Testament scholar who speaks and teaches around the world, and Benjamin Simpson show that a coherent portrait of Jesus emerges from the four Gospels when they are taken seriously as historical documents. When read together, the Gospels provide a clear picture of Jesus and his unique claims to authority. This book surveys all the Gospel units and relates them to their parallel passages, showing how the literary and canonical relationships work. Offering up-to-date interaction with the latest discussions about Jesus, the second edition has been substantially revised and updated throughout and includes three new chapters on how we got the Gospels.
- Publisher


Meet the Author
Darrell L Bock
Darrell L.Bock (Ph.D., University of Aberdeen) is Research Professor of New Testament Studies, Professor of Spiritual Development and Culture (CCL) at Dallas Theological Seminary. Dr. Bock has earned international recognition as a Humboldt Scholar (Tubingen University in Germany).He is the author or editor of many books, including the two-volume commentary on Luke and the volume on Acts (Baker Exegetical Commentary on the New Testament series), Jesus according to Scripture, The Missing Gospels, Jesus in Context, and Studying the Historical Jesus.