Jesus and the Jewish Roots of the Eucharist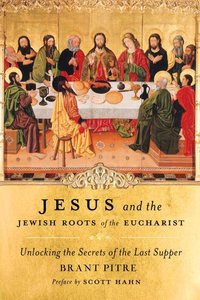 In recent years, Christians everywhere are rediscovering the Jewish roots of their faith.

Every year at Easter time, many believers now celebrate Passover meals (known as Seders) seeking to understand exactly what happened at Jesus' final Passover, the night before he was crucified.

Jesus and the Jewish Roots of the Eucharist shines fresh light on the Last Supper by looking at it through Jewish eyes. Using his in-depth knowledge of the Bible and ancient Judaism, Dr. Brant Pitre answers questions such as: What was the Passover like at the time of Jesus? What were the Jewish hopes for the Messiah? What was Jesus' purpose in instituting the Eucharist during the feast of Passover? And, most important of all, what did Jesus mean when he said, "This is my body… This is my blood"?

To answer these questions, Pitre explores ancient Jewish beliefs about the Passover of the Messiah, the miraculous Manna from heaven, and the mysterious Bread of the Presence. As he shows, these three keys-the Passover, the Manna, and the Bread of the Presence-have the power to unlock the original meaning of the Eucharistic words of Jesus. Along the way, Pitre also explains how Jesus united the Last Supper to his death on Good Friday and his Resurrection on Easter Sunday.

Inspiring and informative, Jesus and the Jewish Roots of the Eucharist is a groundbreaking work that is sure to illuminate one of the greatest mysteries of the Christian faith: the mystery of Jesus' presence in "the breaking of the bread."

- Publisher
You May Also Be Interested In
About "Jesus and the Jewish Roots of the Eucharist"
In recent years, Christians everywhere are rediscovering the Jewish roots of their faith.

Every year at Easter time, many believers now celebrate Passover meals (known as Seders) seeking to understand exactly what happened at Jesus' final Passover, the night before he was crucified.

Jesus and the Jewish Roots of the Eucharist shines fresh light on the Last Supper by looking at it through Jewish eyes. Using his in-depth knowledge of the Bible and ancient Judaism, Dr. Brant Pitre answers questions such as: What was the Passover like at the time of Jesus? What were the Jewish hopes for the Messiah? What was Jesus' purpose in instituting the Eucharist during the feast of Passover? And, most important of all, what did Jesus mean when he said, "This is my body… This is my blood"?

To answer these questions, Pitre explores ancient Jewish beliefs about the Passover of the Messiah, the miraculous Manna from heaven, and the mysterious Bread of the Presence. As he shows, these three keys-the Passover, the Manna, and the Bread of the Presence-have the power to unlock the original meaning of the Eucharistic words of Jesus. Along the way, Pitre also explains how Jesus united the Last Supper to his death on Good Friday and his Resurrection on Easter Sunday.

Inspiring and informative, Jesus and the Jewish Roots of the Eucharist is a groundbreaking work that is sure to illuminate one of the greatest mysteries of the Christian faith: the mystery of Jesus' presence in "the breaking of the bread."
- Publisher


Meet the Author
Brant Pitre
Brant Pitre (Ph.D., University of Notre Dame) is Donum Dei Professor of Word and Sacrament at Our Lady of Holy Cross College in New Orleans, Louisiana. He holds an M.T.S. in biblical studies and theology from Vanderbilt Divinity School.
Customer Reviews For "Jesus and the Jewish Roots of the Eucharist"
Write Your Own Review
An Important Book That Every Catholic and Protestant Should Read!
By Dr. Bernard Low,

Nov 02 2017
In this fascinating, insightful and well-researched book, Brant Pitre delves into the Jewish roots of the Last Supper. He argues, very persuasively and with solid evidences from both Jewish and Old Testament sources, that the Last Supper has roots in the Jewish expectation of the Messiah, the New Passover, the Manna of the Messiah, the Bread of the Presence, and how Jesus' death relates to the fourth cup of the Passover. This book is deeply fascinating and cannot but cause one to appreciate the rich meaning and significance of the Lord's Supper or Eucharist. After reading this book, one cannot but also take the Eucharistic theology of the Roman Catholic Church seriously. The Eucharist should be celebrated more regularly in Protestant circles than it is now and also made more central in the liturgy of the Church! This book is highly recommended! 
{{review.title}}
By {{review.author.name}},

{{review.reviewCreatedDate | date:'MMM dd yyyy'}}

{{reviewdescription}}
{{review.text}}
---