Jesus, Author of Our Faith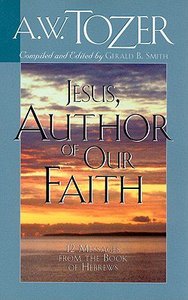 "A 20th-century prophet" they called him even in his own lifetime. For 31 years he was pastor of Southside Alliance Church in Chicago, where his reputation as a man of God was citywide. Concurrently, he became editor of Alliance Life, a responsibility he fulfilled until his death in 1963. His greatest legacy to the Christian world has been more than 40 books, including this one.

- Publisher Ften Quoted by Chuck Swindoll, Charles Stanley, Billy Graham and other great preachers, A.W. Tozer's words are being heard and read by millions today-words like:

- Publisher
You May Also Be Interested In
About "Jesus, Author of Our Faith"
"A 20th-century prophet" they called him even in his own lifetime. For 31 years he was pastor of Southside Alliance Church in Chicago, where his reputation as a man of God was citywide. Concurrently, he became editor of Alliance Life, a responsibility he fulfilled until his death in 1963. His greatest legacy to the Christian world has been more than 40 books, including this one.
- Publisher

Ften Quoted by Chuck Swindoll, Charles Stanley, Billy Graham and other great preachers, A.W. Tozer's words are being heard and read by millions today-words like:
- Publisher


Meet the Authors
A W Tozer
A. W. Tozer died in 1963, but his life and spiritual legacy continue to draw many into a deeper knowledge of God. During his lifetime, Tozer pastored several Christian and Missionary Alliance churches. Missions and the deeper life in Christ were his primary focus. He also served as editor of the Alliance Life. Tozer authored more than 40 books, (at least two of which are considered classics: The Pursuit of God and Knowledge of the Holy), a tremendous accomplishment for a man who never received a formal theological education. The presence of God was his classroom, his notebooks and tools consisted of prayer, God's Word, and the writings of early Christians and theologians, the Puritans, and great men of faith. - Publisher.