Jesus is Alive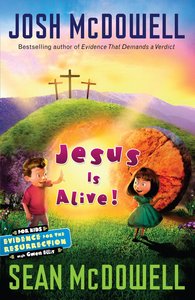 Kids want to see the evidence for themselves! In a kid-friendly Q& A about at the claims of the Gospel writers and 2,000 years of believing Christians, bestselling author Josh McDowell and his son, Sean, examine the compelling evidence and conclude that Jesus Christ conquered death! In clear, accessible chapters that correspond to the adult and teen editions of the book, Josh and Sean invite children ages 7 to 10 to discover the proof of Christ's resurrection and what it means for them today.

- Publisher
You May Also Be Interested In
About "Jesus is Alive"
Kids want to see the evidence for themselves! In a kid-friendly Q& A about at the claims of the Gospel writers and 2,000 years of believing Christians, bestselling author Josh McDowell and his son, Sean, examine the compelling evidence and conclude that Jesus Christ conquered death! In clear, accessible chapters that correspond to the adult and teen editions of the book, Josh and Sean invite children ages 7 to 10 to discover the proof of Christ's resurrection and what it means for them today.
- Publisher


Meet the Authors
Josh Mcdowell
Josh McDowell is an internationally known speaker, author, and champion of the 'Beyond Belief' Campaign. He is a travelling representative of Campus Crusade for Christ speaking to more than ten million people in at least 84 countries, including 700 university and college campuses.
Josh has authored or co-authored more than 90 books, including the classic A Ready Defense, Evidence that Demands a Verdict and Answers to Tough Questions
Sean Mcdowell
A popular speaker at schools, churches, and conferences, focuses on helping young people think critically about key moral issues. He is a highschool teacher, holds advanced degrees in philosophy and theology, and has compiled Josh McDowell's Youth Ministry Handbook and authored Ethix: Being Bold in a Whatever World and co-authored Understanding Intelligent Design along with William A. Dembski and The Credible Resurrection with Josh McDowell (Gospel Light, 2008).
He is currently the general editor for The Apologetics Study Bible for Teens. Sean has also contributed to YouthWorker Journal, Decision Magazine, the Christian Research Journal, and writes regular columns for www.planetwisdom.com and www.christianworldviewnetwork.com.