Jesus Revolution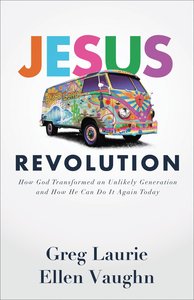 God has always been interested in turning unlikely people into his most fervent followers. Prostitutes and pagans, tax collectors and tricksters. The more unlikely, the more it seemed to please God and to demonstrate his power, might, and mercy. America in the 1960s and 1970s was full of unlikely people--men and women who had rejected the stuffy religion of their parents' generation, who didn't follow the rules, didn't fit in. The perfect setting for the greatest spiritual awakening of the 20th century.

With passion and purpose, Greg Laurie and Ellen Vaughn tell the amazing true story of the Jesus Movement, an extraordinary time of mass revival, renewal, and reconciliation. Setting fascinating personal stories within the context of one of the most tumultuous times in modern history, the authors draw important parallels with our own time of spiritual apathy or outright hostility, offering hope for the next generation of unlikely believers--and for the next great American revival.

Those who lived through the Jesus Revolution will find here an inspiring reminder of the times and people that shaped their lives and faith. Younger readers will discover a forgotten part of recent American history and, along with it, a reason to believe that God is not finished with their generation.

- Publisher
You May Also Be Interested In
About "Jesus Revolution"
God has always been interested in turning unlikely people into his most fervent followers. Prostitutes and pagans, tax collectors and tricksters. The more unlikely, the more it seemed to please God and to demonstrate his power, might, and mercy. America in the 1960s and 1970s was full of unlikely people--men and women who had rejected the stuffy religion of their parents' generation, who didn't follow the rules, didn't fit in. The perfect setting for the greatest spiritual awakening of the 20th century.

With passion and purpose, Greg Laurie and Ellen Vaughn tell the amazing true story of the Jesus Movement, an extraordinary time of mass revival, renewal, and reconciliation. Setting fascinating personal stories within the context of one of the most tumultuous times in modern history, the authors draw important parallels with our own time of spiritual apathy or outright hostility, offering hope for the next generation of unlikely believers--and for the next great American revival.

Those who lived through the Jesus Revolution will find here an inspiring reminder of the times and people that shaped their lives and faith. Younger readers will discover a forgotten part of recent American history and, along with it, a reason to believe that God is not finished with their generation.
- Publisher


Meet the Authors
Greg Laurie
Greg Laurie is the senior pastor of Harvest Christian Fellowship in Riverside California and Harvest Orange County in Irvine California. He began his pastoral ministry at the age of 19 by leading a Bible study of 30 people. Since then God has transformed that small group into a church of some 15,000 people. Today Harvest is one of the largest churches in America and consistently ranks among the most influential churches in the country. In 1990 Laurie began holding large-scale public evangelistic events called Harvest Crusades. Since that time more than 4,408,000 people have attended.
Ellen Vaughn
Ellen Vaughn is an award-winning author and speaker. Her novels include The Strand and Gideon's Torch, which she coauthored with Chuck Colson. She collaborated with Colson on eight other nonfiction works, including Being the Body, The Body, and Kingdoms in Conflict. Her most recent book is Radical Gratitude. Vaughn speaks frequently at Christian conferences and has been featured at writers' seminars in the United States and Canada. She lives in Virginia with her husband, Lee; daughter, Emily; twins, Walker and Haley; and an enormous dog named after C. S. Lewis.