Jesus the Seer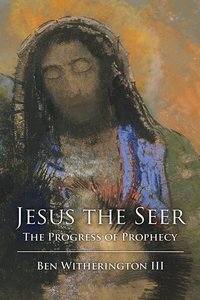 Scholars recognize that prophetic traditions, expressions, and experiences stand at the heart of most religions in the ancient Mediterranean world. This is no less true for the world of Judaism and Jesus. Ben Witherington III offers an extensive, cross-cultural survey of the broader expressions of prophecy in its ancient Mediterranean context, beginning with Mari, moving to biblical figures not often regarded as prophets Balaam, Deborah, Moses, and Aaron, and to the apocalyptic seer in postexilic prophecy, showing that no single pattern describes all prophetic figures. The consequence is that different aspects of Jesus' activity touch upon prophetic predecessors: his miracles, on Elijah and Elisha; his self-understanding as the Son of Man, on Daniel and 1 Enoch; his warnings of woe and judgment, on the "writing prophets" in Judean tradition; and his messianic entry into Jerusalem, on Zechariah 9. Witherington also surveys the phenomenon of apocalyptic prophecy in early Christianity, including Paul, Revelation, the Didache, Hermas, and the Montanist movement. Jesus the Seer is a worthy complement to Witherington's other volume on Jesus, Jesus the Sage.

- Publisher
You May Also Be Interested In
About "Jesus the Seer"
Scholars recognize that prophetic traditions, expressions, and experiences stand at the heart of most religions in the ancient Mediterranean world. This is no less true for the world of Judaism and Jesus. Ben Witherington III offers an extensive, cross-cultural survey of the broader expressions of prophecy in its ancient Mediterranean context, beginning with Mari, moving to biblical figures not often regarded as prophets Balaam, Deborah, Moses, and Aaron, and to the apocalyptic seer in postexilic prophecy, showing that no single pattern describes all prophetic figures. The consequence is that different aspects of Jesus' activity touch upon prophetic predecessors: his miracles, on Elijah and Elisha; his self-understanding as the Son of Man, on Daniel and 1 Enoch; his warnings of woe and judgment, on the "writing prophets" in Judean tradition; and his messianic entry into Jerusalem, on Zechariah 9. Witherington also surveys the phenomenon of apocalyptic prophecy in early Christianity, including Paul, Revelation, the Didache, Hermas, and the Montanist movement. Jesus the Seer is a worthy complement to Witherington's other volume on Jesus, Jesus the Sage.
- Publisher


Meet the Author
Ben Witherington
Ben Witherington III (Ph.D., University of Durham, England) is Amos Professor of New Testament for Doctoral Studies at Asbury Theological Seminary in Wilmore, Kentucky, and is on the doctoral faculty at the University of St. Andrews in Scotland
He is the author of many books on the New Testament, including Women and the Genesis of Christianity (Cambridge University Press); Jesus the Sage (Fortress Press); The Jesus Quest (InterVarsity Press) and The Paul Quest (InterVarsity Press). With Hershel Shanks he is coauthor of The Brother of Jesus (HarperSanFrancisco), a book on the controversial James ossuary. A frequent contributor to Beliefnet.com, Witherington has also appeared on numerous TV news programs such as Dateline, 60 Minutes, 20/20 and the Peter Jennings ABC special Jesus and Paul--The Word and the Witness.
Dr Witherington has written a commentary on every book of the New Testament in a wide variety of series.
Table Of Contents
Contents:; Preface; Introduction: Authority Of The Bible And Exploration; 1. Our World And Biblical Worlds; 2. God In The Biblical Canon; 3. Interpretation: Understanding And Navigating Biblical Worlds; 4. Paul's Letters And Gospels; 5. Other Letters; 6. Revelation And Its Relation To The Entire Bible; Conclusion: Christianity And The Bible: Claims, Lessons, And Future Expectations.