Job (Interpretation Bible Commentaries Series)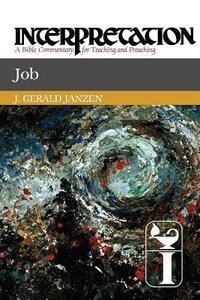 In this volume, J. Gerald Janzen examines the text of the book of Job as a literary text within the context of the history of the religion of Israel and within the broader context of the universal human condition. He approaches the basic character of the book from a literary perspective which enables him to identify human existence as exemplified in Job and to expound on the mystery of good and evil, which gives human existence its experiential texture and which together drive humans to ask the same kind of questions asked by Job. This is the first full-length commentary to present Job systematically and literarily.

- Publisher
You May Also Be Interested In
About "Job (Interpretation Bible Commentaries Series)"
In this volume, J. Gerald Janzen examines the text of the book of Job as a literary text within the context of the history of the religion of Israel and within the broader context of the universal human condition. He approaches the basic character of the book from a literary perspective which enables him to identify human existence as exemplified in Job and to expound on the mystery of good and evil, which gives human existence its experiential texture and which together drive humans to ask the same kind of questions asked by Job. This is the first full-length commentary to present Job systematically and literarily.
- Publisher


Meet the Author
J Gerald Janzen
J. Gerald Janzen (Ph.D., Harvard University) is Macallister-Petticrew Emeritus Professor of Old Testament at Christian Theological Seminary, Indianapolis, IN. He is a priest of the Anglican Church of Canada. He is the author of Job(Interpretation Commentary); Studies in the Text of Jeremiah; Abraham and All the Families of the Earth: A Commentary on the Book of Genesis 12-50 (International Theological Commentary); At the Scent of Water: The Ground of Hope in the Book of Job and Exodus (Westminster Bible Companion)
Koorong -Editorial Review.
Other Titles In The "Interpretation Bible Commentaries" Series View All