John (Abingdon New Testament Commentaries Series)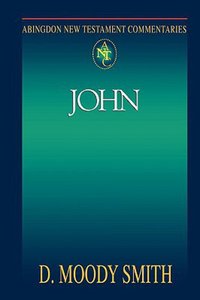 The Abingdon New Testament Commentaries series provides compact, critical commentaries on the writings of the New Testament. In addition to providing basic information about the New Testament texts and insights into their meanings, these commentaries are intended to exemplify the task and procedures of careful, critical biblical exegesis. Each volume contains an introduction, a commentary, an annotated bibliography, and a subject index.In John, D. Moody Smith views the Fourth Gospel within several contexts in order to illuminate its specific purposes and achievements. With a growing consensus of recent scholarship (Martyn, Raymond E. Brown, Meeks) the roots of the Gospel and its traditions are sought in the conflict between Jesus' followers and opponents within Judaism. In their struggles, Jesus' followers are encouraged and strengthened by his continuing presence in the Spirit, who articulates his meaning for new situations, of which readers get a partial picture in the Gospel's farewell discourses, as well as in the Johannine letters. Although distinctive, Johannine Christianity does not develop in isolation from the broader Christian Gospels. Out of a fascinating, if complex, setting there develops the strikingly unique statement of Christian faith, practice, and doctrine found in the Gospel of John. The purpose of this commentary is to enable the reader to comprehend that statement in historical perspective in order to appreciate its meaning and significance.

- Publisher 384 pages

- Publisher
You May Also Be Interested In
About "John (Abingdon New Testament Commentaries Series)"
The Abingdon New Testament Commentaries series provides compact, critical commentaries on the writings of the New Testament. In addition to providing basic information about the New Testament texts and insights into their meanings, these commentaries are intended to exemplify the task and procedures of careful, critical biblical exegesis. Each volume contains an introduction, a commentary, an annotated bibliography, and a subject index.In John, D. Moody Smith views the Fourth Gospel within several contexts in order to illuminate its specific purposes and achievements. With a growing consensus of recent scholarship (Martyn, Raymond E. Brown, Meeks) the roots of the Gospel and its traditions are sought in the conflict between Jesus' followers and opponents within Judaism. In their struggles, Jesus' followers are encouraged and strengthened by his continuing presence in the Spirit, who articulates his meaning for new situations, of which readers get a partial picture in the Gospel's farewell discourses, as well as in the Johannine letters. Although distinctive, Johannine Christianity does not develop in isolation from the broader Christian Gospels. Out of a fascinating, if complex, setting there develops the strikingly unique statement of Christian faith, practice, and doctrine found in the Gospel of John. The purpose of this commentary is to enable the reader to comprehend that statement in historical perspective in order to appreciate its meaning and significance.
- Publisher

384 pages
- Publisher


Meet the Author
D Moody Smith (Jr)
D. Moody Smith is George Washington Ivey Professor Emeritus of New Testament at Duke Divinity School in Durham, North Carolina.
Other Titles In The "Abingdon New Testament Commentaries" Series View All