John (Baker Exegetical Commentary On The New Testament Series)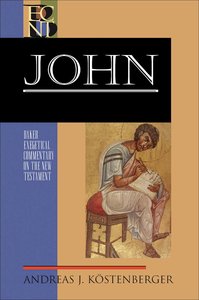 Andreas J. Köstenberger's new commentary on the Gospel of John draws on extensive research and engages the best of contemporary scholarship, yet provides a readable study that will be beneficial to students, pastors, and scholars.

After considering the historical context of the letter as well as its relation to other New Testament writings, Köstenberger turns to his exegetical work. An introduction to each exegetical unit is provided along with the author's own translation of the Greek text. In the course of his verse-by-verse comments, Köstenberger incorporates references to other ancient writings that help explain the book's theological, cultural, and social context. Where appropriate, he draws upon the work of other commentators and provides extensive notes for further reading and research.

- Publisher
You May Also Be Interested In
About "John (Baker Exegetical Commentary On The New Testament Series)"
Andreas J. Köstenberger's new commentary on the Gospel of John draws on extensive research and engages the best of contemporary scholarship, yet provides a readable study that will be beneficial to students, pastors, and scholars.

After considering the historical context of the letter as well as its relation to other New Testament writings, Köstenberger turns to his exegetical work. An introduction to each exegetical unit is provided along with the author's own translation of the Greek text. In the course of his verse-by-verse comments, Köstenberger incorporates references to other ancient writings that help explain the book's theological, cultural, and social context. Where appropriate, he draws upon the work of other commentators and provides extensive notes for further reading and research.
- Publisher


Meet the Author
Andreas J Kostenberger
Andreas J. Kostenberger (Drs., Vienna University of Economics, Ph.D., Trinity Evangelical Divinity School) is Professor of New Testament/Director of Ph.D. Studies at South East Baptist Theological Seminary, Wake Forest. He is also the editor of the Journal of the Evangelical Theological Society, and the author of numerous books including The Gospel of John (Baker Exegetical Commentary of the New Testament) Encountering the Gospel of John, The Book Study Concordance of the Greek New Testament, and The Missions of Jesus and the Disciples according to the Fourth Gospel.
He also translated Adolf Schlatter's two-volume New Testament Theology. His current publications include The Pastoral Epistles (Revised Expositor's Bible Commentary); A Theology of John's Gospel and Letters: The Word, the Christ, the Son of Godand The Cradle, The Cross and The Crown.
Koorong-Editorial Review..
Other Titles In The "Baker Exegetical Commentary On The New Testament" Series View All