John Wesley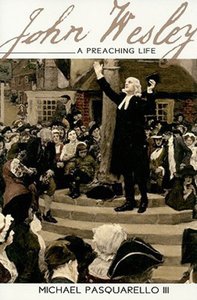 That John Wesley was not a systematic theologian is a point frequently made. Yet if that be the case, what kind of theologian was he? To look at his literary output over the course of his long life and ministry is to recognize the central role that sermons played. Thus, claims Michael Paquarello, Wesley was a homiletical theologian, one for whom the Word preached was the core means of reflecting on and understanding the meaning of the Gospel.

In this "preaching life" of Wesley Pasquarello places Wesley's sermons in the larger religious, political, and intellectual world of their eighteenth-century context. Neither a biography nor an intellectual history, it is a homiletic history, one that both uses the details of Wesley's milieu to build a framework for understanding his sermons, and that illumines the practical wisdom embodied in the content, form, and style of Wesley's preaching. John Wesley: A Preaching Life vividly portrays the centrality of Wesley's preaching to the religious revival that transformed eighteenth-century  England.



- Publisher
You May Also Be Interested In
About "John Wesley"
That John Wesley was not a systematic theologian is a point frequently made. Yet if that be the case, what kind of theologian was he? To look at his literary output over the course of his long life and ministry is to recognize the central role that sermons played. Thus, claims Michael Paquarello, Wesley was a homiletical theologian, one for whom the Word preached was the core means of reflecting on and understanding the meaning of the Gospel.

In this "preaching life" of Wesley Pasquarello places Wesley's sermons in the larger religious, political, and intellectual world of their eighteenth-century context. Neither a biography nor an intellectual history, it is a homiletic history, one that both uses the details of Wesley's milieu to build a framework for understanding his sermons, and that illumines the practical wisdom embodied in the content, form, and style of Wesley's preaching. John Wesley: A Preaching Life vividly portrays the centrality of Wesley's preaching to the religious revival that transformed eighteenth-century  England.


- Publisher


Meet the Author
Michael Iii Pasquarello
Michael Pasquarello III (Ph.D., University of North Carolina, Chapel Hill) is Granger E. and Anna A. Fisher Professor of Preaching at Asbury Theological Seminary and has more than twenty years of pastoral experience in the United Methodist Church. He is the author of Sacred Rhetoric: Preaching as a Theological and Pastoral Practice of the Church and the co-editor of Narrative Reading, Narrative Preaching: Reuniting New Testament Interpretation and Proclamation.