Johnny Cornflakes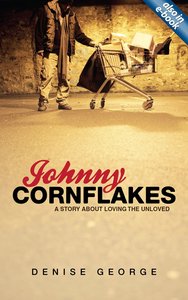 It all started as an ordinary dinner party. But life was about to change forever for Denise, the new-in-town young ministers wife. Displaced from the security of her childhood home to work with her husband in the slums of Boston, it is while serving a candlelight dinner to friends that Denise encounters the town drunkthe entirely unloved Johnny Cornflakes. With his dramatic and unwelcome appearance, he spoils her picture-perfect social gathering and sets the stage for Denises growing contempt of him. In the next surprising turn of events, Denise meets Johnny againthis time at the churchs Friday night Coffee House. As a group of troubled teenagers read from Matthew 25, the words of Jesus tug at their hearts when they are confronted by the noisy entrance of homeless, cold and hungry Johnny Cornflakes. It is the gaping hole in his shoe that captures their attention, and armed with compassion, they forge a plan to help this mysterious stranger. The heart-warming tale of Johnny Cornflakes

- Publisher It was transition time for Denise, a young pastor's wife. She had moved from the south with her husband Timothy to work with street children and a run-down urban church near Boston. Struggling to settle in, she finds one person in particular hard to love as he gatecrashes her dinner party and seems determined to make life difficult. The children name this eccentric homeless man "Johnny Cornflakes." However, God is the one who can change people and situations often in surprising and very unexpected ways. Based on a true story, this will warm your heart.

- Publisher
You May Also Be Interested In
About "Johnny Cornflakes"
It all started as an ordinary dinner party. But life was about to change forever for Denise, the new-in-town young ministers wife. Displaced from the security of her childhood home to work with her husband in the slums of Boston, it is while serving a candlelight dinner to friends that Denise encounters the town drunkthe entirely unloved Johnny Cornflakes. With his dramatic and unwelcome appearance, he spoils her picture-perfect social gathering and sets the stage for Denises growing contempt of him. In the next surprising turn of events, Denise meets Johnny againthis time at the churchs Friday night Coffee House. As a group of troubled teenagers read from Matthew 25, the words of Jesus tug at their hearts when they are confronted by the noisy entrance of homeless, cold and hungry Johnny Cornflakes. It is the gaping hole in his shoe that captures their attention, and armed with compassion, they forge a plan to help this mysterious stranger. The heart-warming tale of Johnny Cornflakes
- Publisher

It was transition time for Denise, a young pastor's wife. She had moved from the south with her husband Timothy to work with street children and a run-down urban church near Boston. Struggling to settle in, she finds one person in particular hard to love as he gatecrashes her dinner party and seems determined to make life difficult. The children name this eccentric homeless man "Johnny Cornflakes." However, God is the one who can change people and situations often in surprising and very unexpected ways. Based on a true story, this will warm your heart.
- Publisher


Meet the Author
Denise George
Denise George is the author of over 1,200 magazine articles and numerous books, including the Secrets of Soul Gardening women's Bible study series and What Women Wish Pastors Knew and What Pastors Wish Church Members Knew. She speaks internationally at seminaries, colleges, churches, and retreats. She and her husband, Dr. Timothy George, founding dean of Beeson Divinity School at Samford University, live in Birmingham, Alabama.
-Editorial Review.