Jonah (Brazos Theological Commentary On The Bible Series)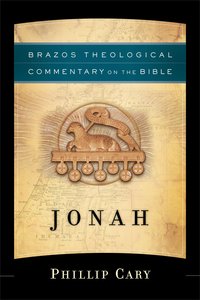 :Pastors and leaders of the classical church--such as Augustine, Calvin, Luther, and Wesley--interpreted the Bible theologically, believing Scripture as a whole witnessed to the gospel of Jesus Christ. Modern interpreters of the Bible questioned this premise. But in recent decades, a critical mass of theologians and biblical scholars has begun to reassert the priority of a theological reading of Scripture.

The Brazos Theological Commentary on the Bible enlists leading theologians to read and interpret Scripture for the twenty-first century, just as the church fathers, the Reformers, and other orthodox Christians did for their times and places. In the sixth volume in the series, Phillip Cary presents a theological exegesis of Jonah.

- Publisher
You May Also Be Interested In
About "Jonah (Brazos Theological Commentary On The Bible Series)"
:Pastors and leaders of the classical church--such as Augustine, Calvin, Luther, and Wesley--interpreted the Bible theologically, believing Scripture as a whole witnessed to the gospel of Jesus Christ. Modern interpreters of the Bible questioned this premise. But in recent decades, a critical mass of theologians and biblical scholars has begun to reassert the priority of a theological reading of Scripture.

The Brazos Theological Commentary on the Bible enlists leading theologians to read and interpret Scripture for the twenty-first century, just as the church fathers, the Reformers, and other orthodox Christians did for their times and places. In the sixth volume in the series, Phillip Cary presents a theological exegesis of Jonah.
- Publisher


Meet the Author
Phillip Cary
Phillip Cary (Ph.D., Yale University) is professor of philosophy and director of the philosophy program at Eastern University in Pennsylvania as well as scholar-in-residence at the Templeton Honors College.


He is the author of Jonah (Brazos Theological Commentary on the Bible) and of three critically acclaimed books on the life and thought of St. Augustine - Augustine's Invention of the Inner Self (Oxford, 2000); Inner Grace: Augustine in the Traditions of Plato and Paul (Oxford, 2008); Outward Signs: The Powerlessness of External Things in Augustine's Thought (Oxford, 2008), and most recently the popular title Good News for Anxious Christians: Ten Practical Things You Don't Have to Do (Brazos, 2010).
Koorong -Editorial Review.
Other Titles In The "Brazos Theological Commentary On The Bible Series" Series View All