Joshua (Expositional Commentary Series)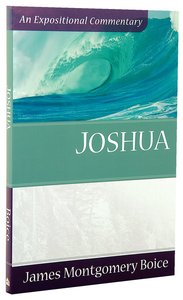 Commentaries by James Montgomery Boice explain the meaning of the biblical text verse by verse and section by section, while also relating the text to the realities of Christian life. This latest addition to Boice's popular expositional commentary series discusses the themes of obedience and love in the context of the life of Joshua, chosen military commander. Boice's easy-to-understand writing makes Joshua a helpful commentary for pastors, students, and laypeople alike.

- Publisher "The secret of success is to know God's Word, speak about it, meditate on it, and then, above all, do it. In God's world there is no substitute for full obedience." Joshua was a soldier. According to James Montgomery Boice, he was "one of the most extraordinary military commanders of all time." But what sets Joshua apart from his predecessors and successors, says Boice, was his obedience to the Word of God. This insightful commentary follows a chosen commander whose obedience successfully brought him through the Jewish conquest of Canaan. Chapter by chapter and verse by verse, Boice explores the entire book of Joshua, from Joshua's military commissioning to the crossing of the Jordan River, from the Israelite victory at Jericho to the division of Canaan among the twelve tribes, which set the stage for God's people to prosper forever in obedience to him. James Montgomery Boice (1938-2000) was senior pastor of Tenth Presbyterian Church in Philadelphia, Pennsylvania. He was also president and cofounder of the Alliance of Confessing Evangelicals, the parent organization of The Bible Study Hour, on which Boice was a speaker for more than thirty years.

- Publisher
You May Also Be Interested In
About "Joshua (Expositional Commentary Series)"
Commentaries by James Montgomery Boice explain the meaning of the biblical text verse by verse and section by section, while also relating the text to the realities of Christian life. This latest addition to Boice's popular expositional commentary series discusses the themes of obedience and love in the context of the life of Joshua, chosen military commander. Boice's easy-to-understand writing makes Joshua a helpful commentary for pastors, students, and laypeople alike.
- Publisher

"The secret of success is to know God's Word, speak about it, meditate on it, and then, above all, do it. In God's world there is no substitute for full obedience." Joshua was a soldier. According to James Montgomery Boice, he was "one of the most extraordinary military commanders of all time." But what sets Joshua apart from his predecessors and successors, says Boice, was his obedience to the Word of God. This insightful commentary follows a chosen commander whose obedience successfully brought him through the Jewish conquest of Canaan. Chapter by chapter and verse by verse, Boice explores the entire book of Joshua, from Joshua's military commissioning to the crossing of the Jordan River, from the Israelite victory at Jericho to the division of Canaan among the twelve tribes, which set the stage for God's people to prosper forever in obedience to him. James Montgomery Boice (1938-2000) was senior pastor of Tenth Presbyterian Church in Philadelphia, Pennsylvania. He was also president and cofounder of the Alliance of Confessing Evangelicals, the parent organization of The Bible Study Hour, on which Boice was a speaker for more than thirty years.
- Publisher


Meet the Author
James Montgomery Boice
James Montgomery Boice (D.Theol., University of Basel, Switzerland) was until his death in 2000, the pastor of Tenth Presbyterian Church in Philadelphia, the teacher on "The Bible Study Hour" radio program and chairman of the board of City Centre Academy. In addition to authoring numerous journal articles, he was a consulting editor for the Expositor's Bible Commentary. His books and many Expository commentaries include Foundations of God's City and the five-volume work The Gospel of John.
-Editorial Review.
Other Titles In The "Expositional Commentary Series" Series View All