Joshua (Lifechange Study Series)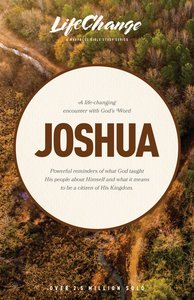 God Fulfills His Promise
It had been centuries since God promised to give Abraham and his family the land of Canaan. Now the time had finally come. The Lord-accompanied by Joshua, His veteran commander-leads His people to take possession of their promised inheritance. We find in the book of Joshua powerful reminders for a people prone to forgetting-reminders of what God taught His people about Himself and what it means to be a citizen of His Kingdom.
LifeChange
LifeChange Bible studies will help you grow in Christlikeness through a life-changing encounter with God's Word. Filled with a wealth of ideas for going deeper so you can return to this study again and again.
Features
Cover the entire book of Joshua in 16 lessons
Equip yourself to lead a Bible study
Imagine the Bible's historical world
Study word origins and definitions
Explore thoughtful questions on key themes
Go deeper with optional projects
Add your notes with extra space and wide margins
Find the flexibility to fit the time you have
- Publisher
You May Also Be Interested In
About "Joshua (Lifechange Study Series)"
God Fulfills His Promise
It had been centuries since God promised to give Abraham and his family the land of Canaan. Now the time had finally come. The Lord-accompanied by Joshua, His veteran commander-leads His people to take possession of their promised inheritance. We find in the book of Joshua powerful reminders for a people prone to forgetting-reminders of what God taught His people about Himself and what it means to be a citizen of His Kingdom.

LifeChange
LifeChange Bible studies will help you grow in Christlikeness through a life-changing encounter with God's Word. Filled with a wealth of ideas for going deeper so you can return to this study again and again.

Features
Cover the entire book of Joshua in 16 lessons
Equip yourself to lead a Bible study
Imagine the Bible's historical world
Study word origins and definitions
Explore thoughtful questions on key themes
Go deeper with optional projects
Add your notes with extra space and wide margins
Find the flexibility to fit the time you have
- Publisher
Other Titles In The "Lifechange Study Series" Series View All