Joshua (Teach The Text Commentary Series)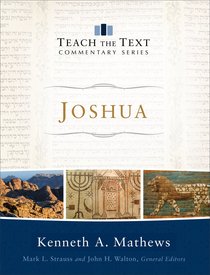 $

39.99

$

31.99
You Save: $8.00 (20%)
Hardback
:To craft informed sermons, pastors scour commentaries that often deal more with minutia than the main point. Or they turn to devotional commentaries, which may contain exegetical weaknesses. The Teach the Text Commentary Series bridges this gap by utilizing the best of biblical scholarship and providing the information a pastor needs to communicate the text effectively. By concentrating each carefully selected preaching unit into six pages of focused commentary, each volume in this series allows pastors to quickly grasp the big idea and key themes of each passage of Scripture. Each unit of the commentary includes the big idea and key themes of the passage; sections dedicated to understanding, teaching, and illustrating the text; and full-color illustrations, maps, and photos.

- Publisher
You May Also Be Interested In
About "Joshua (Teach The Text Commentary Series)"
:To craft informed sermons, pastors scour commentaries that often deal more with minutia than the main point. Or they turn to devotional commentaries, which may contain exegetical weaknesses. The Teach the Text Commentary Series bridges this gap by utilizing the best of biblical scholarship and providing the information a pastor needs to communicate the text effectively. By concentrating each carefully selected preaching unit into six pages of focused commentary, each volume in this series allows pastors to quickly grasp the big idea and key themes of each passage of Scripture. Each unit of the commentary includes the big idea and key themes of the passage; sections dedicated to understanding, teaching, and illustrating the text; and full-color illustrations, maps, and photos.
- Publisher


Meet the Author
Kenneth Mathews
Kenneth A. Mathews (Ph.D., University of Michigan) teaches full-time as Professor of Divinity at Beeson Divinity School, Samford University, in Birmingham, Alabama. He teaches part-time at Southern Baptist Theological Seminary and brings to the classroom many years of experience in teaching and research. He is associate general editor of the New American Commentary and the author of Genesis 1-11:26 and Genesis 11:27-50:26 in the series. Among his other publications is The Paleo-Hebrew Leviticus Scroll (co-authored with David Noel Freedman) that was the first study of the Leviticus Dead Sea Scroll, and Leviticus: Holy God, Holy People (Preach the Word series). Dr. Mathews is a member of the Evangelical Theological Society and the Institute for Biblical Research.
Koorong-Editorial Review.
Other Titles In The "Teach The Text Commentary Series" Series View All
$9.99

$7.99




Available Now. 50+ Available

Formats