Journey Into the Miraculous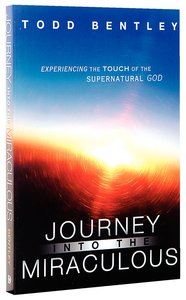 Todd Bentley's life story will inspire you to believe in a bigger God than you've ever known! God chose a wild, broken young man, one "whom no one would have believed in," to become an extraordinary vessel of healing for the multitudes. Todd's life is a testimony of God's grace, the Father's love, and His transformational power. It demonstrates that God truly looks for ordinary, broken people with a "yes" in their spirit to do the "greater works than these" that Jesus prophesied. If you've ever felt disqualified or inadequate to do big things for God, then this book will revolutionize your thinking.

- Publisher
You May Also Be Interested In
About "Journey Into the Miraculous"
Todd Bentley's life story will inspire you to believe in a bigger God than you've ever known! God chose a wild, broken young man, one "whom no one would have believed in," to become an extraordinary vessel of healing for the multitudes. Todd's life is a testimony of God's grace, the Father's love, and His transformational power. It demonstrates that God truly looks for ordinary, broken people with a "yes" in their spirit to do the "greater works than these" that Jesus prophesied. If you've ever felt disqualified or inadequate to do big things for God, then this book will revolutionize your thinking.

- Publisher
- Koorong

Do you believe in miracles? Do you want to believe in miracles? There will be no doubt in your mind after reading the testimonies of people worldwide who have experienced healing and revival through the grace and mercy of God. YOU can too Author Todd Bentley was dramatically delivered as a teenager from a life of alcohol, drugs, prison, and the occult, launching him by the Holy Spirit into a worldwide ministry. He is a "prophetic signpost of what God wants to do with millions of others." As an evangelist and revivalist operating in a fresh prophetic and miracle-healing anointing, the author has witnessed God heal hundreds of people who were: ?????? Diseased with cancer. ?????? Blind ?????? Addicted to drugs. ?????? Addicted to alcohol and tobacco. ?????? In bondage to satan's evil. And when He had called unto Him His twelve disciples, He gave them power against unclean spirits, to cast them out, and to heal all manner of sickness and all manner of disease (Matthew 10: 1). The Journey
- Publisher


Meet the Author
Todd Bentley
Todd has experienced God's wrecking, transformational, instantaneous, mighty power first hand. God has mightily used him to advance the kingdom of God globally. Todd's miraculous conversion to Jesus transformed him into a radical kingdom ambassador and nation dweller, a disciple and soul-winning evangelist for Jesus. Today, not only is the evangelistic anointing upon him, but also an apostolic mantle. Todd travels throughout North America, sparking revival fire and equipping the body in power evangelism and healing ministry. As well, Todd and his Fresh Fire team conduct many healing crusades throughout Africa , India , South America , Europe and beyond. Thousands have been saved, healed, and delivered. Sound ministry following. He is an evangelist, revivalist, apostle operating in the word of knowledge, signs, wonders, miracles, following. Demonstrates the fruit of the Spirit in his life.